By Leia Sharma
The term BAROQUE was derived from the Portuguese word "barocco", which means "imperfect pearl". It refers to art, architecture, music, and fashion that flourished in the 16th century, originating in Rome. Most types of art created in the Baroque period were overly ornate and extravagant, and often inspired by the Catholic religion. For example, Baroque music often featured long, intricate patterns; Baroque architecture was theatrical; Baroque art was large-scale and illustrated key elements of Catholicism; and Baroque clothing was decorative and exuberant.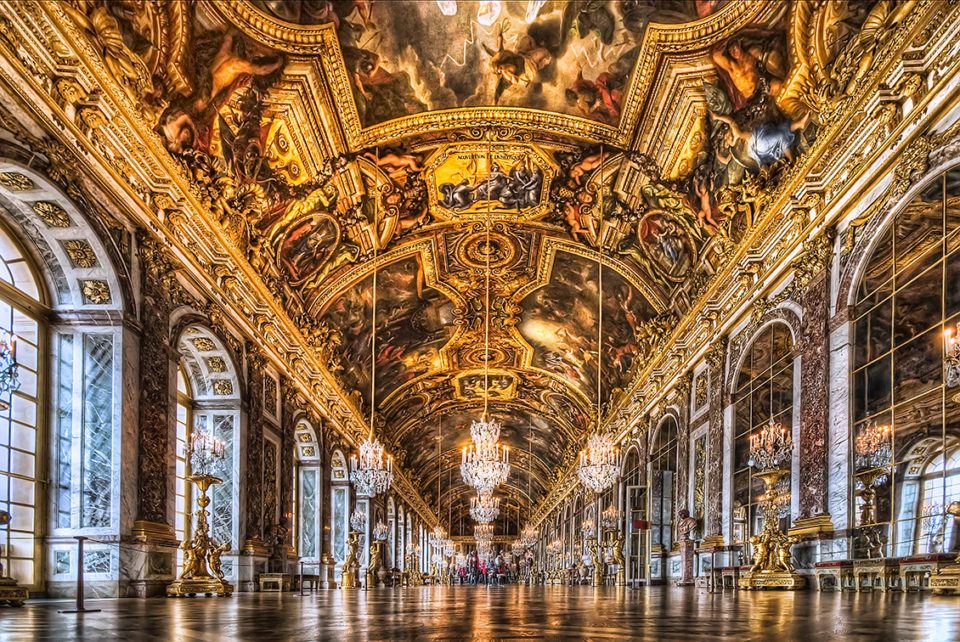 Baroque Era (Image Courtesy : WordPress)
Baroque fashion is defined by the complexity of patterns, the sumptuousness of the textiles and the eccentricity of decorations. In the fashion world today, multiplicity, hazard, experimentation, and brightness are all nods to the Baroque century. Despite the fact that Baroque art was born hundreds of years ago, the fashion industry keeps it alive today with affirmations to the trends of the time.
For example, one feature of the Baroque century was reflections of religion, especially the Catholic Church in Rome. This idea was definitely brought into play during the Met Gala this year. Every year, the Metropolitan Museum of Art in New York hosts a fundraising gala for their Costume Institute. This year their theme was "Heavenly Bodies: Fashion and the Catholic Imagination". Attendees at this year's party wore outfits with heavily-embroidered brocades; dresses or jewellery featuring a large cross, white colours to symbolise the Virgin Mary and other elaborate, exuberant designs.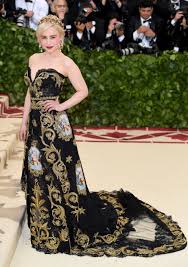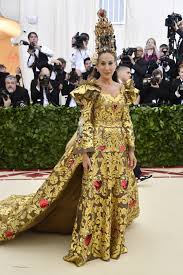 Met Gala 2018 (Image Courtesty: Pop Sugar)
Contemporary designers labels that keep Baroque fashion alive today include Gianni Versace, Gianfranco Ferré and Franco Moschino. Gianni Versace, for example, uses glittering gold fabrics, excessive floral patterns and inspirations from pop art. Gianfranco Ferré, who is an architect as well as fashion designer, creates dresses that are tailored with innovative and daring textile structures. Franco Moschino adds embroidery and marquetry decorations to his jackets and other garments.
Salvatore Ferragamo, too, is inspired by the Baroque style, creating a double dress covered with golden embroideries or plain black bags embellished with intricate stitching. Embroidered details are often added onto simple dresses, such as those created by Dries Van Noten. Dolce & Gabbana styles are often heavily Baroque-inspired, as they include a lot of heavy embroidery, embellishments, and jewel-like accessories. It isn't only the European designers who draw on Baroque inspiration: Ralph Lauren created a pair of black suede shoes with the heel embroidered like a piece of jewellery.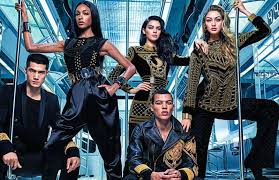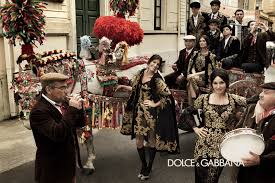 Dolce &Gabbana , Balmain x Baroque (Image Courtesy : WWD)
Baroque styles often feature in fall/winter collections. For cooler months, designers opt for velvet and silk textured fabrics, heavily embroidered jeans and skirts, handbags studded with large jewels, and boots blazoned with gold embroidery.
To add an element of Baroque into your outfit, pick just one key piece to avoid looking too over-the-top. For example, throw on a heavily-embroidered brocade blazer, such as one by Balmain, and keep the rest of your outfit simple: black skinny jeans and simple closed boots. For holiday parties you can opt for an Alexander McQueen extravagant Baroque creation paired with nude heels and simple make-up.