In the world of fashion, it's often the little things that make a big impact. Accessories have the power to elevate a woman's style and complete her outfit, turning an ordinary look into an extraordinary one. Today, we are here to unveil the ultimate online guide to the best accessories for women. Whether you're a fashionista or a novice, this comprehensive guide will help you navigate the world of accessories and make informed choices from the amazing women's accessories list The Collective offers. So, let's dive in and discover the key pieces that will take your style to new heights!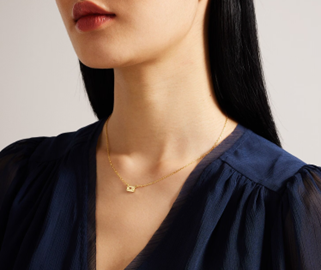 Ted Baker : Women Red Love Letter Pendant Necklace @ The Collective
1. Statement Jewellery
When it comes to making a fashion statement, nothing does it quite like statement jewellery. Bold, eye-catching, and utterly mesmerizing, statement jewellery pieces have the power to turn heads and spark conversations. Necklaces dripping with crystals, earrings that graze the shoulders or elegant studs, bracelets that wrap around the wrist, and rings that demand attention – these are the gems that speak volumes about your personal style.
From the ladies' accessories list at The Collective, you can find an exquisite range of statement jewellery that caters to every taste and occasion. From delicate chains adorned with precious stones to beautiful rings that exude confidence, their collection is a treasure trove of elegance and glamour.
To make the most of statement jewellery, consider the outfit you're wearing. If your clothing is understated, let the jewellery be the star of the show. Pair a simple black dress with a stunning necklace or stack multiple rings for a touch of drama. Conversely, if your outfit already boasts bold prints or intricate details, opt for more subtle statement pieces that complement rather than overpower your look.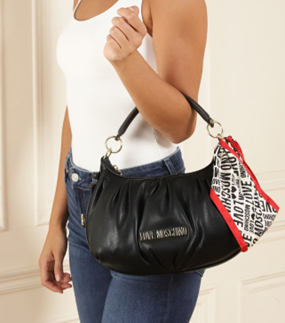 Love Moschino : Women Black PU Shoulder Bag With Scarf
@ The Collective
2. Handbags and Clutches
Handbags and clutches for women are the perfect fusion of fashion and functionality, not to mention are the best accessories for women. They serve as practical accessories for carrying your essentials, and add a touch of sophistication and style to your ensemble. The right handbag or clutch can effortlessly tie your entire outfit together, elevating your look from ordinary to extraordinary.
The Collective offers a wide range of handbags and clutches to suit every occasion and personal style. Whether you prefer the spacious elegance of a tote bag, the convenience of a crossbody bag, or the glamour of an evening clutch, you'll find the perfect companion for any event.
When selecting a handbag or clutch, consider the size, style, and colour that best complements your outfit. A well-chosen handbag can add a pop of colour to a monochromatic ensemble or elevate a casual look to a new level of chic. Remember, your handbag is an extension of your personal style, so be playful, experiment and let the bag do the talking!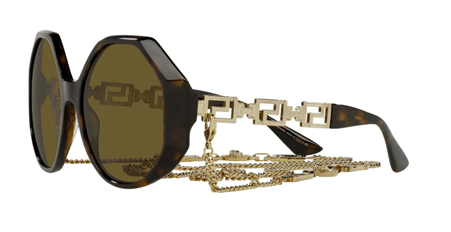 Versace : Women Havana Square Acetate Sunglass @ The Collective
3. Sunglasses
Women Sunglasses are not just a practical accessory to shield your eyes from the sun; they are also a fashion statement. The right pair of sunglasses can instantly elevate your style and give you an air of mystery and allure. Whether you're strolling along the beach or strutting through the city streets, sunglasses are a must-have accessory that adds a touch of glamour to any outfit.
You'll find a wide range of sunglasses from the extensive women's accessories list at The Collective, that combine style with superior UV protection. From classic aviators to trendy cat-eye frames and oversized sunnies that exude Hollywood glamour, their collection has something for every face shape and personal taste.
When choosing sunglasses, consider your face shape. Different styles flatter different features, so find the perfect match that enhances your natural beauty. Additionally, opt for lenses that provide adequate UV protection to safeguard your eyes while looking effortlessly chic.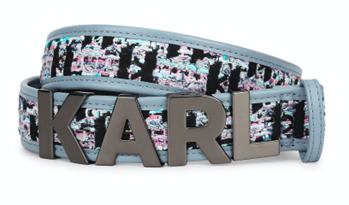 Karl Lagerfeld : Women Multicoloured KARL Buckle Boucle Belt @ The Collective
4. Belts
Women Belts are the unsung heroes of fashion accessories. They have the power to define your waistline, add structure to loose-fitting outfits, and elevate your overall look. A well-chosen belt can transform a simple dress into a figure-flattering ensemble or add a touch of elegance to a casual jeans-and-tee combination.
At The Collective, you'll discover a stunning collection of belts that range from thin and subtle to wide and statement-making. Whether you're aiming to cinch a flowing dress, define your silhouette, or add a finishing touch to a formal outfit, their selection will leave you spoilt for choice.
To make the most of belts, experiment with different styles and widths. A thin belt can add a touch of femininity to a tailored blazer, while a wide belt can create a striking contrast against a flowing maxi dress. Don't be afraid to mix and match textures, colours, and patterns to create a look that reflects your unique style.
Conclusion
Fashion accessories are the key to unlocking your personal style potential. The Collective offers the best accessories for women that will take your outfits to the next level. From statement jewellery that turns heads to handbags and clutches that blend fashion and functionality, their collection is a treasure trove for every fashion enthusiast.
Remember, fashion is an expression of your individuality, and accessories are the perfect tools to make your voice heard. Don't be afraid to experiment, mix and match, and let your accessories tell your story. Whether you're sharing your favourite pieces from the women's accessories list or offering styling tips, join the conversation and showcase your unique style on social media using the hashtag #TheCollectiveStyle.
So go ahead, explore the world of accessories, and let your personal style shine through. With the right accessories, you have the power to transform your outfit and make a lasting impression wherever you go. The Collective is here to accompany you on this fashion journey, ensuring that you always put your best-dressed foot forward. Happy accessorizing!