By Yashvi Poonia
If you are looking to set up a bar at home, look no further. Here is a handy guide listing all the essentials you need, including alcohol, bar equipment, glassware, mixers and garnishes.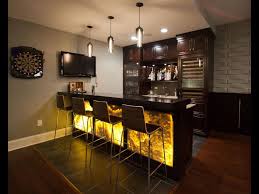 Image Courtesy : Calvo Home
During this process, keep these two rules in mind:
Rule 1: Remember, the first customer for your home bar is YOU.
So, only buy drinks you like, unless you are throwing a party.
Rule 2: Start Small. Fill your bar slowly otherwise you will end up spending a fortune.
LIQUOR & LIQUEURS
Every home bar needs vodka, bourbon, scotch/ whisky, rum, gin, tequila, wine (red, white and sparkling) and beer, of course.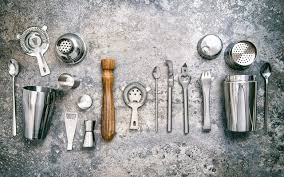 Image Courtesy : Leaf Tv
BAR EQUIPMENT
These basic tools are a must for occasions when you want to mix-it-up and serve up some refreshing cocktails.
JIGGER: helps you measure in 1 ounce and 1.5 ounce increments, which keeps the balance of everything in your drink.
SHAKER: helps mix ice, alcohol and other ingredients together for a smoother feel.
BAR SPOON: mixes your drink in the glass and you can also pick the garnishes, such as olives and berries, with it. The Long handle of the spoon can reach to the bottom of the tallest jug and thin size fits virtually in any cup size.
HAWTHORNE STRAINER: this easily fits on your shaker and effectively strains ice, fruit and more from drinks for smoother cocktails.
CORKSCREW: necessary for opening the wine bottle with a cork stopper.
BOTTLE OPENER/ CAN OPENER: For beer bottles, soft drinks and the occasional can of juice or fruits.
WOODEN MUDDLER: A muddler is used to mash ingredients into your drinks and push out flavours, extracting juices and oils from fruits and herbs for your cocktail.
ICE BUCKET AND TONGS: These are a must, not just for storing ice cubes but a bucket can also be used to keep beer and wine bottles chilled. And tongs are just more hygienic than grabbing rocks with bare hands.
BOTTLE STOPPER: What do you do with leftover wine? You can't keep it in the refrigerator using the original damaged cork or without any stopper. That is where the vacuum wine bottle stopper comes in. It removes oxygen from an open bottle of wine, creating a vacuum, thereby extending the life of the wine. These stoppers work best if you plan to finish the bottle within 5 days.
GLASSWARE
Keep at least 4 of each of these:
Tumbler
Coupe
Cocktail
Collins/Highball
Pilsner
Red Wine Glass
White Wine Glass
Flute
Shot Glasses
Snifter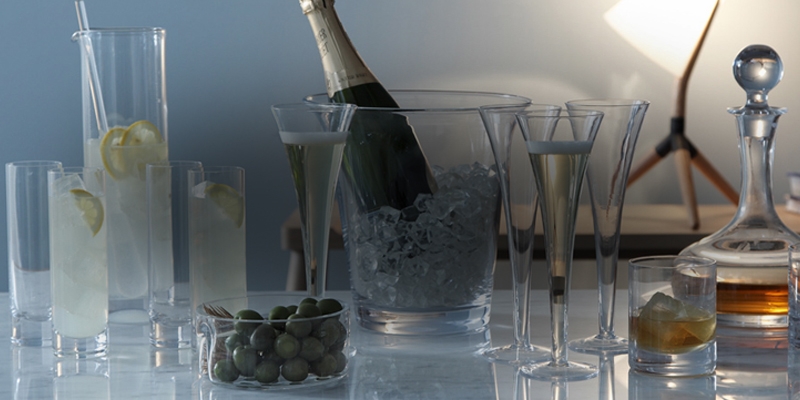 Image Courtesy : Heals
MIXERS
As you are the bartender for your home bar, you should know your mixers well, because most of drinks are incomplete without mixers. While you should be ready with some basic mixers if you plan to make cocktails, you can also get specific mixers based on the recipe for the cocktail.
Club Soda
Cola
Tonic Water
Ginger Ale
Sprite or 7-up
Red Bull
Juices (Orange, Cranberry, Pineapple, Tomato)
Angostura Bitters
GARNISHES
"Garnishes must be matched like a tie to a suit." – Fernand Point
We love to decorate our cocktails with them and it is just not looks – a garnish really makes a difference to the taste of your cocktail. It all depends on the drink, such as gin-based tonics use olive and onions while vodka-based cocktails pair well with lemon and lime flavours.
Here are some of the essential garnishes for your cocktails, most of which you should be able to find in your kitchen.
Cocktail Olives
Cocktail Onions
Lime
Lemon
Oranges
Salt
Sugar
Pepper
Mint Leaves
Tabasco
Maraschino Cherries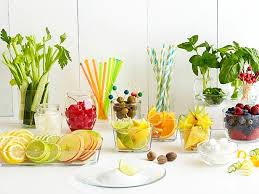 Image Courtesy : Seattle Bar Consulting 
Now you are all set to wow your guests with some home-spun mixology.