By Nikita Sachdev
Summertime brings high temperatures, leaving everyone exhausted, sweaty, and messed up. Staying hydrated in this scorching weather is crucial for feeling energetic and fit. Excessive sweating causes your body to lose water at a faster rate. While water is the most vital drink for quenching thirst, there are other summer drinks that will not only relieve your thirst but also keep your body cool. To beat the heat this summer, let us refresh and restore our bodies with some of the best summer beverages. We've put together a list of summer cooling drinks that you should try.
Watermelon Cooler
Ingredients
Fresh watermelon- 5-6 (cubes that are seedless)
Mint leaf – 2-3
Lemon chunks (Half Cut)
Watermelon syrup – 25ml
Lemon juice – 20-25 ml
Top-up soda – 15-20 ml
Method
Place watermelon, ice and mint leaves in a glass and muddle them. Now pour other ingredients together and blend until smooth. Also, add 1-2 lemon chunks. Garnish with half cut watermelon.
(Recipe by Chef Nafees Ahmed)
Image Courtesy: India Today
Mast Guava
Ingredients
Fresh Guava – 30-40gm
Guava Juice – 90-100ml
Tabasco Piece Green Chilli – 3 tbsp
Basil leaves – 3-4
Chaat masala- 1 tsp
Raw salt – 1 tbsp
Salted rim
Method
Take a glass and decorate the rim with a mixture of salt. Mix all the ingredients and blend them. Garnish with half-cut lemon.
Image Courtesy: Pinkvilla
Orange Mango Soda
Ingredients
½ cup orange juice
2 mangoes
2 tsp simple syrup/honey syrup
Sparkling water (Soda)
Method
To make the orange – mango soda, cut cubes of fresh mango, add in orange juice and blitz this together. Add in honey syrup/simple syrup to this mixture. Fill ¼th of your serving glass with this mixture and top it off with sparkling water. Enjoy!
(Recipe by Chef Shivesh Bhatia)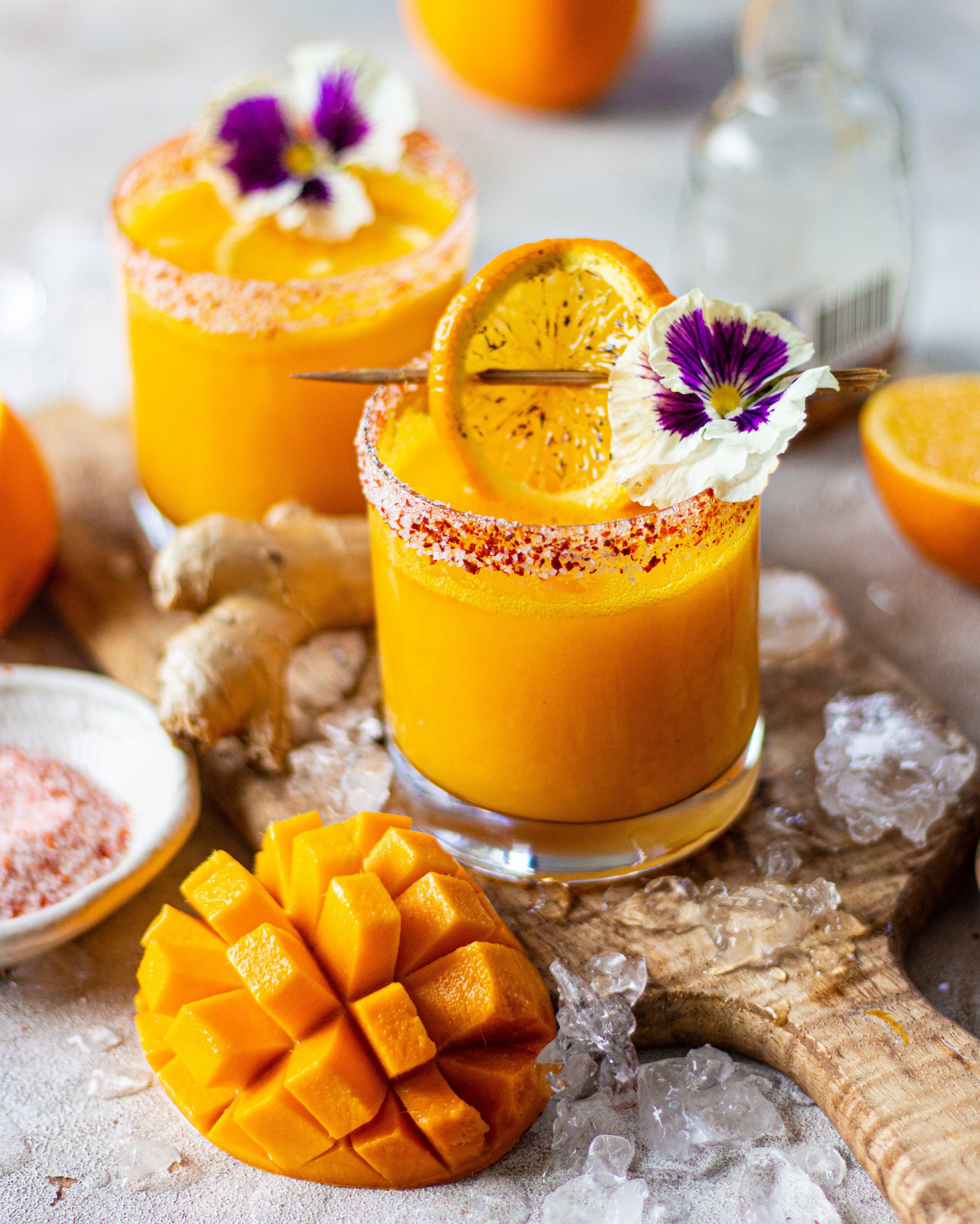 Image Courtesy: Bake with Shivesh
One For The Road
Ingredients
Fresh Orange – Half (Diced – with the peel but no seeds)
Orange Juice – 150 ml
Peach Syrup – 15 ml
Blue Curacao Syrup – 5 ml
Lime Juice – 5 ml
For Garnish, you need a cherry and an orange slice
Method
Take a long glass add the fresh dices of orange then slightly muddle or press them with a spoon just to release their flavours and aroma oils, then add the blue curacao followed by all the ingredients.
After that fill the glass with ice, take a spoon and stir the ingredients, mix it well and the summer drink is ready, taste it to adjust the sugar and garnish it with cherry and an orange slice.
(Recipe by Mixologist Anthony Philip)
Scintillating Blue Currant
Ingredients
Blue currant juice – 50 ml
Lemonade – 10 ml
Lemon juice -10 ml
White grape juice – 30 ml
Blue Soda – 20 ml
Crushed ice
Cherry for garnish
Method
Puree blackcurrant puree and strain it. Add lemon juice & white grape juice in a cocktail shaker with ice and shake until chilled. Double strain into a chilled martini glass and top up with Soda. Garnish with cherry & lime wedge
(Recipe by Chef Nishant Choubey)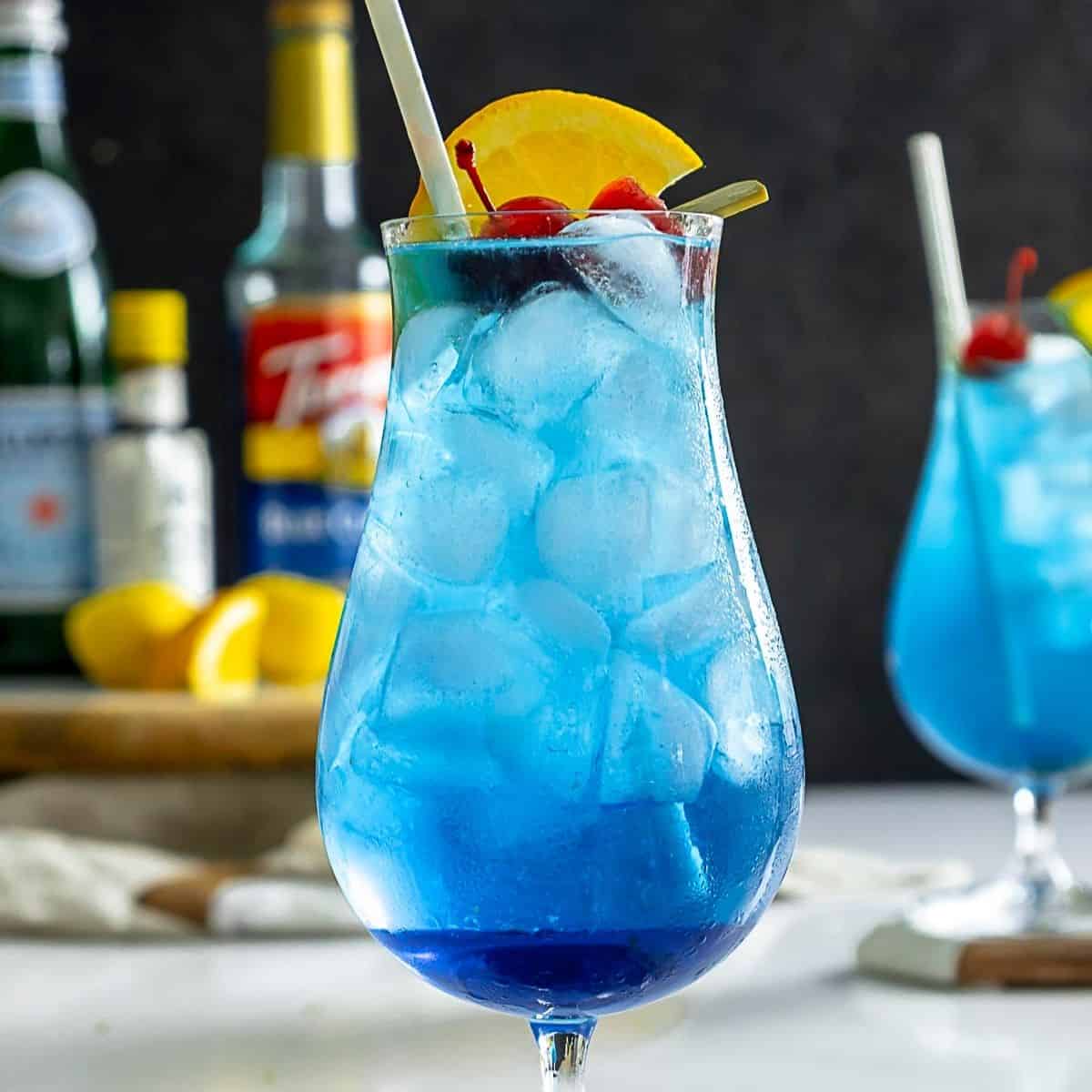 Image Courtesy: Aleka's Get-together
Anaesthesia
Ingredients
Rambuttan – 4-5
Star anise seed – 1
Lychee Juice – 120 ml
Lemon Juice – 10ml
Grenadine Syrup – 10 ml
Pomegranate concentrate – 20 ml
Method
Muddle Rambuttan and star anise in shaker. Add lychee juice, pomegranate concentrate and lemon juice in a shaker. Shake the shaker vigorously filled with ice. Serve it in a chilled martini glass. Add grenadine syrup in a martini glass. Garnish with star anise.
(Recipe by Chef Nishant Choubey)