By Sanjana GL
Some people eat to live, but for those who live to eat, great food is a celebration. As Nigella Lawson, the domestic food goddess and a believer of guilt-free pleasure eating put it: "You cannot truly say you live well unless you eat well".
Taking this thought further are some of the rarest ingredients in the world. These ingredients are so rare and complex to process that they can be termed the Kohinoor diamonds of the food world. Certain restaurants in the world serve some extravagant gastronomical delights, using these rarities, at unimaginable prices of course.
From the Zillion Dollar Lobster Frittata to the Golden Phoenix cupcake with strawberries dipped in edible gold, we bring you a list of some of the most expensive spices, dishes and food ingredients in the world.
 THE WORLD'S MOST PRICELESS INGREDIENTS: 
Edible gold: Usually used as decoration in desserts and as sprinkles in champagne, the 23-carat edible gold costs Rs. 1600 for a glass jar of 150 mg gold flakes.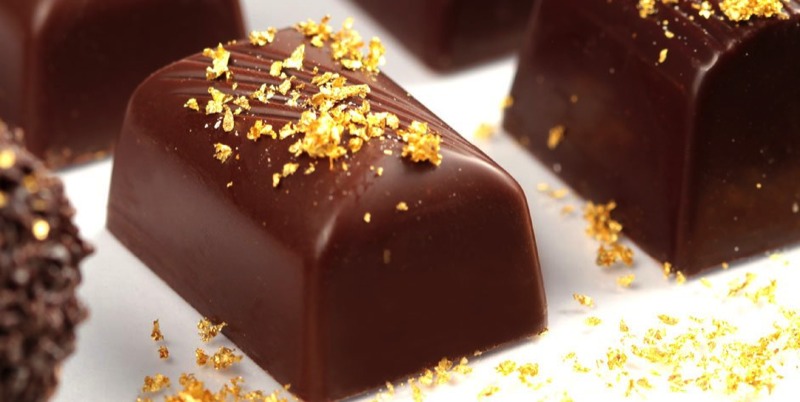 Edible Gold flakes (Image Courtesy: Averton Ltd)
Kopi Luwak: The world's most expensive, rarest and flavourful coffee beans are collected from the droppings of palm civets that lurk around Indonesian coffee plantations at night eating ripe coffee cherries. A kilo of Kopi Luwak costs between Rs. 13,000-27,000.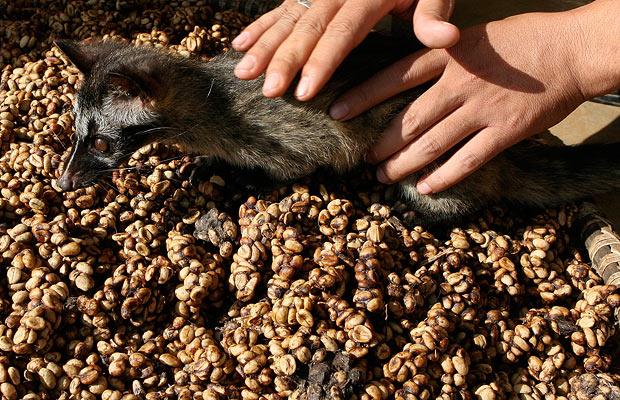 A baby civet amidst Kopi Luwak (Image Courtesy: Telegraph)
White truffle: What make truffles a treasure is their erratic growth habits. So far, no one has been able to domesticate this fungus and humans rely on trained pigs and dogs to trace them. Found in the Northern part of Italy, 30g of white truffles will set you back Rs. 13,000.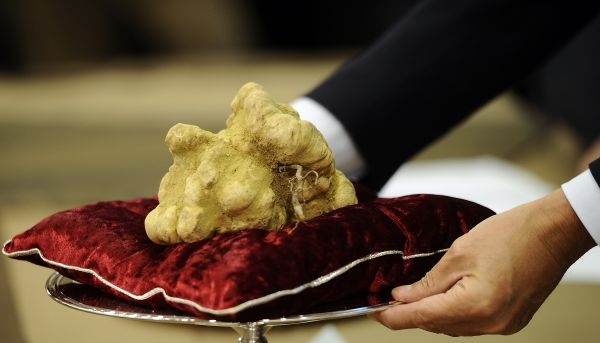 Exotic White Truffle (Image Courtesy – Decanter)
 Saffron: What makes saffron the most expensive herb on the planet is the fact that it takes 50,000-75,000 flowers with an easy helping of 20 hours of labour to produce a pound of saffron threads. Mainly grown in Italy, Iran, India, Spain, and Greece, and used as a flavouring ingredient in cooking, in perfumes and in medicines; half a kilo of saffron can set you back a whopping Rs. 3.3 Lakhs!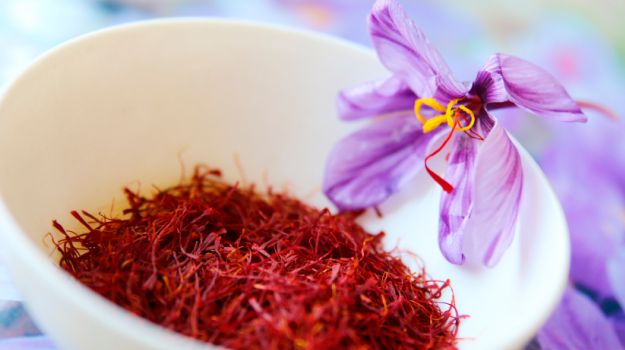 Priceless saffron stamens (Image Courtesy: NDTV)
Vanilla: The second most expensive spice in the world is dubbed so because it requires heavy human labour to manually pollinate it. Then, once it ripens, it needs to be hand picked along with its fruits. Usually used in desserts, 500g of the finest beans from Mexico and Madagascar costs Rs. 14,000.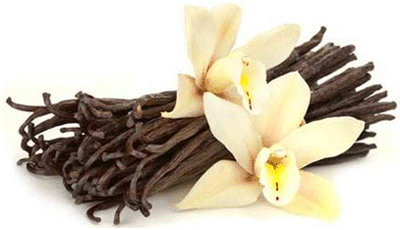 Madagascar Vanilla (Image Courtesy: Indigo Fragrance)
THE WORLD'S MOST EXPENSIVE DISHES: 
Golden Phoenix cupcake: Dubbed 'the most expensive cupcake in the world', this tiny gastronomic delight is made with the finest chocolate and flour imported from Italy, vanilla beans imported from Uganda and edible gold sheets with strawberries doused in edible gold. It is available at the Bloomsbury cafe in Dubai at a price of – hold your breath — Rs. 12.23 Lakhs!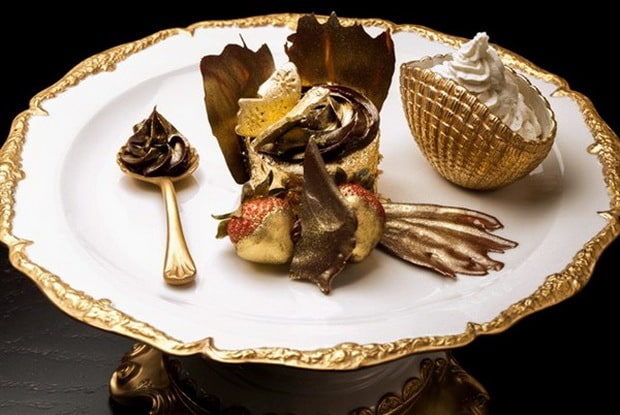 The infamous Bloomsbury Cupcake (Image Courtesy: Luxatic)
Lobster Frittata at Norma's: This luxurious Rs. 1.3 Lakh breakfast comes with one whole lobster loaded with chives, cream, half a dozen eggs and 10 oz of Sevruga Caviar. The world's most expensive omelette, dubbed the 'Zillion Dollar Lobster Frittata' is available at Norma's in the Parker New York Hotel.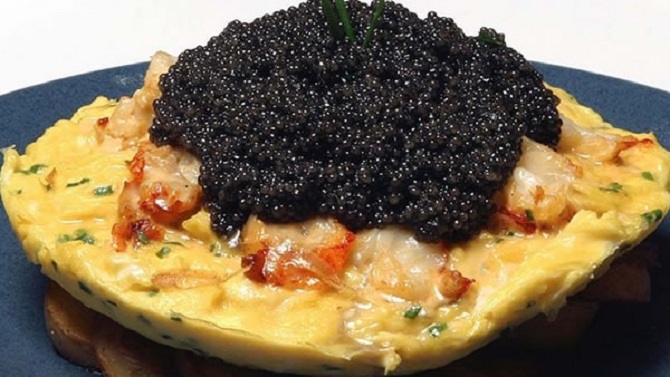 Norma's Lobster Frittata (Image Courtesy – Pinterest)
Westin Bagel: The most expensive bagel in the world, priced at $1000, is topped with extravagant ingredients like gold leaves, white truffle cream cheese and Riesling jelly infused with goji berries. It was, however, created to raise funds for a scholarship meant for the students of the culinary arts.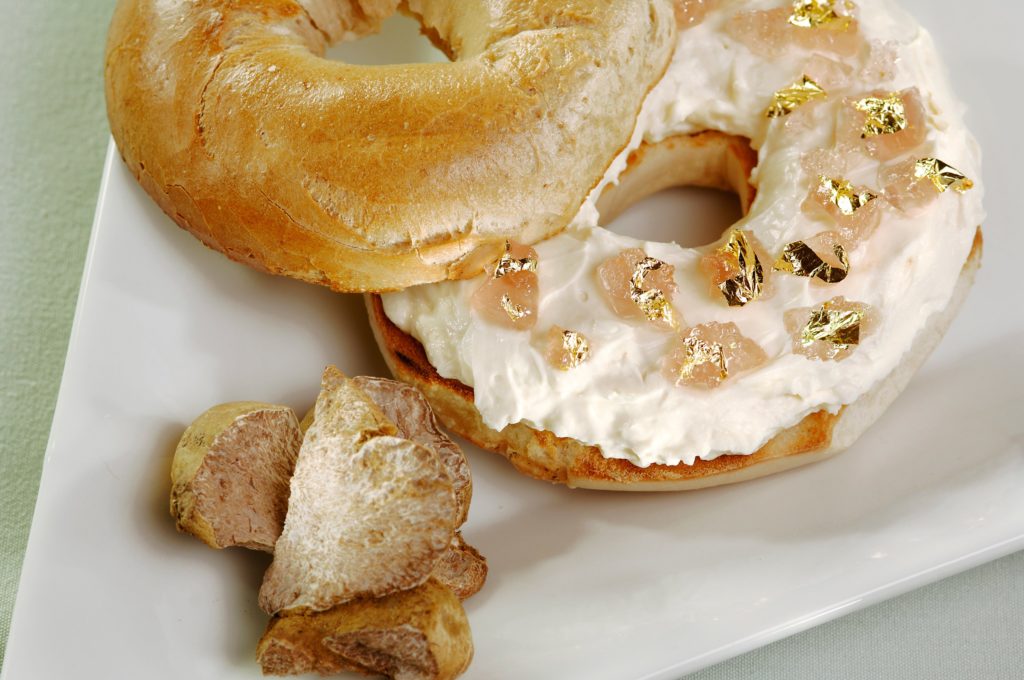 The Westin Bagel (Image Courtesy: Conde Nast Traveller)
Main image courtesy: Ana Kelly Food Styling