THE COLLECTIVE COVER STORY
The Collective Cover Story: This initiative, on a monthly basis, honours one of India's leading entrepreneurs, industry contributors, upcoming actors, athletes, or other prominent personalities who are at the forefront of their respective industries and who have contributed to the growth of their industry and society. It aims to bring together leaders from different walks of life to celebrate them, their journey, and their sense of style.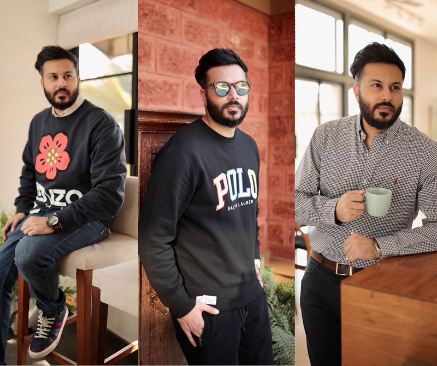 A pioneer in the culinary culture of India, presenting Raaj Saanghvi, a trailblazing example on how perseverance and adaptability can help one come a long way. After being lost in terms of career like most students in university, Raaj finally discovered his passion for food and there's no looking back since then.  Just like fashion, we couldn't agree more as Raaj affirms on how food is the universal touchpoint of humans.
Today, challenging preconceived notions about the F&B industry and getting India the recognition it deserves in terms of its rich food culture is what Raaj aims to revolutionise further. Raaj firmly believes that comfort is directly proportional to confidence & as long as one is confident, half the battle is won already.The amalgamation of his top picks from The Collective reflect just the same: comfort, class and confidence.
RALPH OUT THE ELEGANCE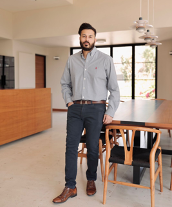 Starting a prominent movement to leave an impact isn't a 9 to 5 job, especially in the post pandemic world. But when it comes to dressing up for work, Raaj likes to keep it organic and classic with a Ralph Lauren blue and white checked shirt and a pair of well-fitted classic blue jeans. He completes this effortless look by pairing it with a brown belt and brown shoes to give it the final touch of formalness. The dab of confidence and passion to make a difference, that accompanies his personality is what makes the look stand out.
THE KENZO WAY TO COMFORT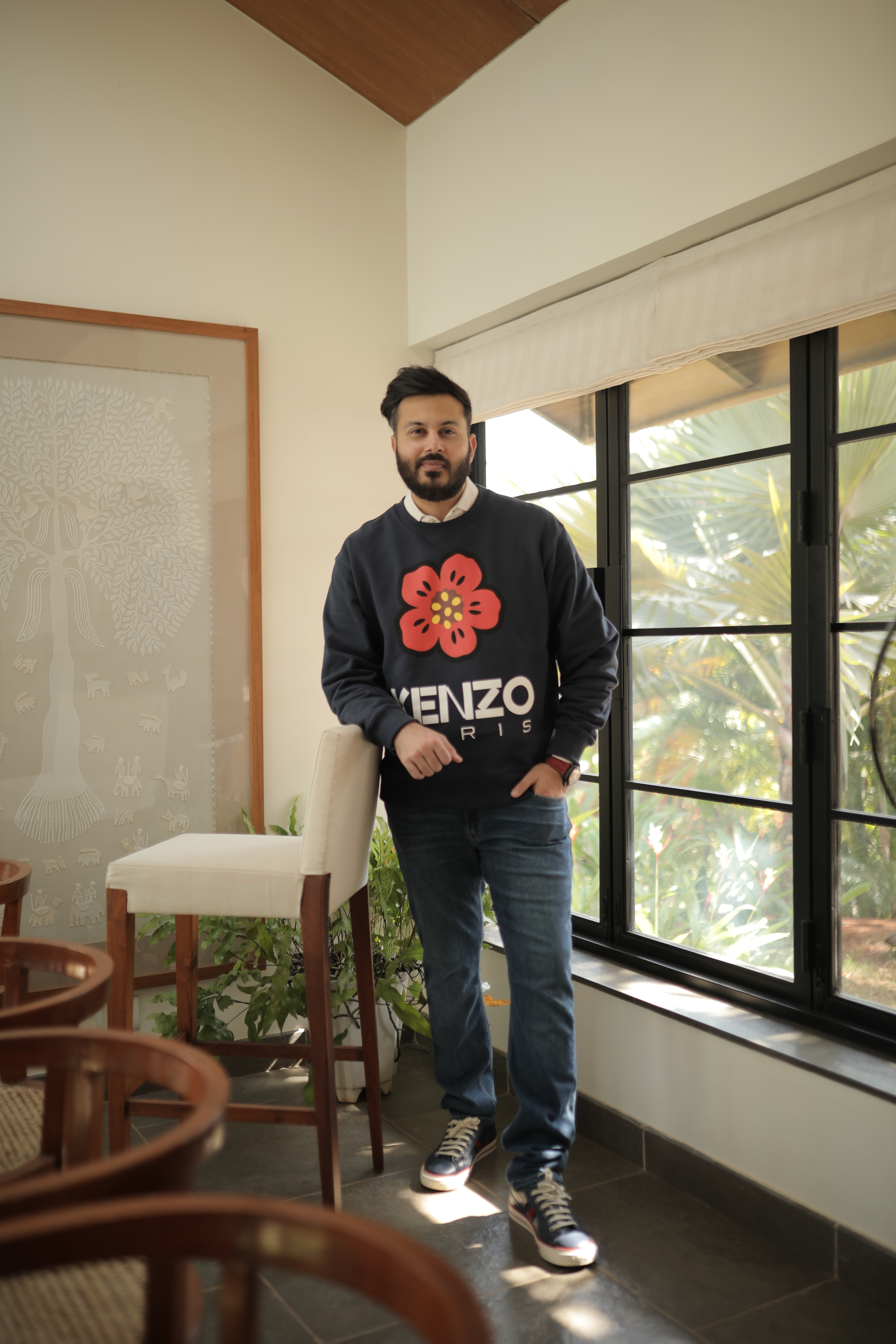 For his second look, Raaj might like to keep his looks simple and conventional, but never boring. He brings out his inner dapper with a dope Kenzo sweatshirt, a pair of blue jeans. He sees fashion not just for his external attributes but as a way of life, an attitude. This look definitely resonates with his philosophy and personality with its seamless comfort and laid backness. Without compromising on style or comfort, he pairs his sweatshirt with a classic pair of blue jeans and complimenting white & blue sneakers to complete the look.
BASIC BUT NEVER BORING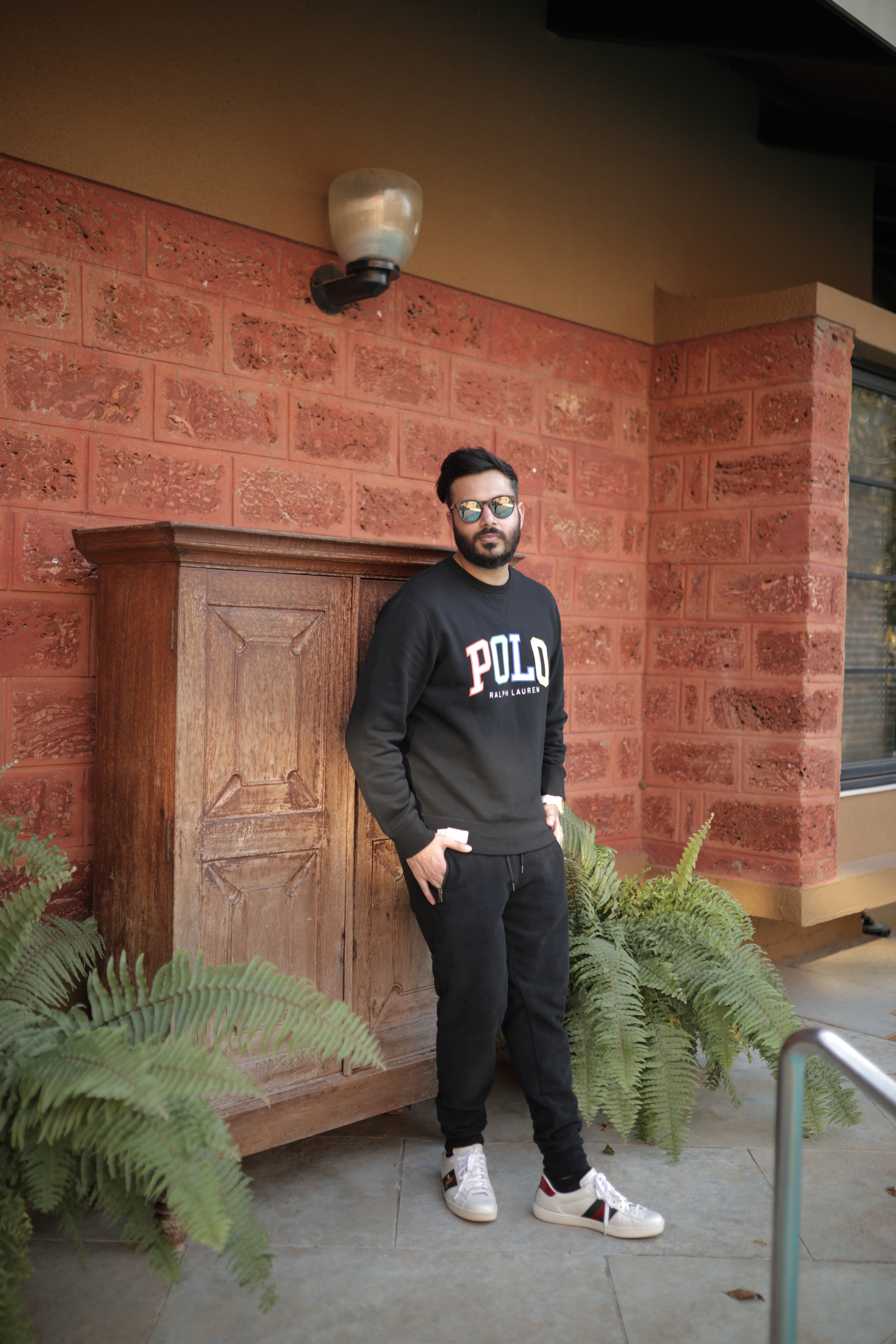 Last but far from least, he picks a simple black POLO Ralph Lauren sweatshirt and pairs it with black Ralph Lauren tapered fit joggers. Talking about comfort and fashion, Raaj is definitely pointing us in the right direction. Accessorising the look with a watch (an essential for a watch collector like him) and a pair of black sunglasses (another wardrobe essential, in his opinion), Raaj takes the simplistic looking outfit to another level. Putting the ensemble together with a pair of white sneakers, he is now ready to take on the rest of the day.
There is no better time for India's culinary industry than now, and Raaj's first initiative to give chefs a platform and not just restaurants is nothing less than groundbreaking. There are always going to be challenges, but dealing with them is what paves a path towards success. Taking the culinary world by a storm one step at a time; with patience, perseverance and an impressionable & poised sense of style!