Fashion is not just about wearing clothes; it is a powerful tool for self-expression. The way we dress speaks volumes about our personality, confidence, and individuality. Whether you are a fashion enthusiast or someone who is looking to enhance their style, we at The Collective will provide valuable fashion tips for women looking to make a statement. So, get ready to elevate your fashion game and express your unique style with these essential tips.
Dressing for Your Body Type
Understanding your body type is the first step in dressing to flatter your figure. Every woman is beautifully unique, and different body types require different styling techniques. Whether you have an hourglass, pear, apple, or athletic body shape, there are innumerable style tips for women that can help you enhance your best features and create a balanced silhouette.
Fashion is all about embracing your unique body shape and accentuating your best features. By understanding your body type and dressing to flatter it, you can create a stylish and confident look that is tailored to you. Let's dive into understanding different body types and with the few simple style tips for women, you will be geared to dress to your advantage.
Hourglass Body Type
If you have an hourglass figure, you're blessed with well-defined curves and a balanced proportion between your bust and hips. The key to dressing an hourglass shape is to emphasize your waistline and highlight your curves.
Opt for fitted clothing that hugs your curves while still providing comfort. A wrap dress or a fitted pencil skirt paired with a tailored blouse can accentuate your waistline beautifully. Additionally, A-line dresses, belted tops, and high-waisted bottoms are also great options to flatter your figure. Remember, the goal is to showcase your curves, so avoid loose or shapeless garments that may hide your natural shape.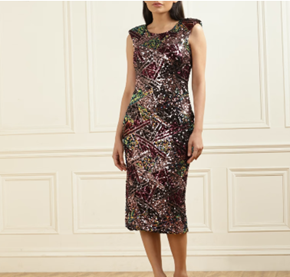 Rinascimento – Multicoloured Sequined Bodycon Dress @ The Collective
Pear Body Type
Pear-shaped bodies typically have narrower shoulders and a fuller lower body with wider hips and thighs. The key to dressing a pear shape is to balance your proportions and draw attention to your upper body.
Choose tops that emphasize your shoulders and create the illusion of broader shoulders. Off-the-shoulder or boat necklines, structured jackets, and women tops with embellishments or ruffles can help achieve this effect. Pair them with A-line skirts or wide-leg trousers to create a balanced silhouette. When it comes to dresses, opt for styles that cinch at the waist and flow gracefully over your hips.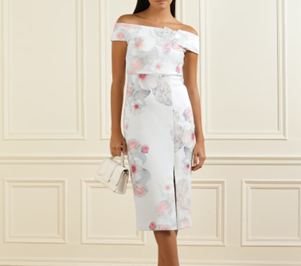 Ted Baker @The Collective
Apple Body Type
Apple-shaped bodies tend to have a fuller midsection with a broader torso and slimmer arms and legs. The goal when dressing an apple shape is to create a balanced look by highlighting your best assets and creating the illusion of a defined waist.
Empire waistlines and A-line dresses are excellent choices for apple shapes as they accentuate the bust and flow over the midsection. Wrap tops and dresses can also create a flattering shape by defining the waistline. Additionally, opt for clothing with vertical patterns or vertical color blocking to create a lengthening effect. Avoid clingy fabrics or tops that emphasize the midsection.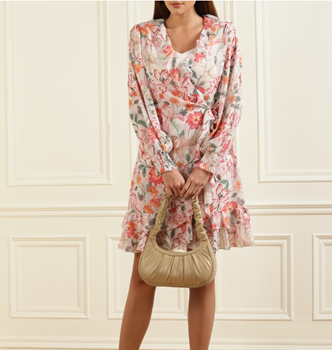 Phase Eight @ The Collective
Athletic Body Type
Athletic body types are characterized by a more rectangular shape with well-toned muscles and a smaller bust and hips. The goal is to create curves and add feminine softness to your frame.
Choose clothing that adds volume and dimension to your upper and lower body. Ruffled or embellished tops can create the illusion of a fuller bust, while peplum tops and dresses can add curves to your hips. Opt for women skirts and dresses with pleats, ruching, or draping to add volume to your lower body. Additionally, consider experimenting with feminine details like bows, frills, and floral patterns to enhance your curves.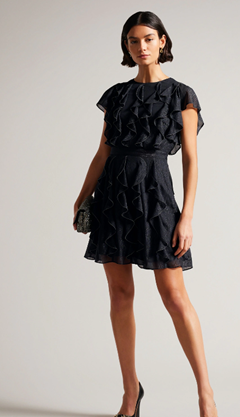 Ted Baker @ The Collective
Remember, these are just general guidelines, and everyone's body is unique. The most important thing is to feel comfortable and confident in what you wear. Embrace your body type, and don't be afraid to experiment with different styles, cuts, and silhouettes to find what works best for you.
The Collective offers a wide range of clothing options catering to different body types. Whether you're looking for the perfect wrap dress for an hourglass figure or a top that flatters your pear shape, you'll find a variety of styles, cuts, and silhouettes that work well for each body type. Explore their collection and embrace your beautiful self by dressing to enhance your unique features.
Invest in Classic Pieces
When building a wardrobe, it is essential to invest in classic pieces that stand the test of time – this is by far the best fashion tips for women! These timeless garments can be dressed up or down, making them the foundation of a versatile wardrobe. Carolina Herrera once stated, "Fashion has always been a repetition of ideas, but what makes it new is the way you put it together." So, make sure to have key items like a tailored women blazer like the Karl Lagerfeld statement set in the pic below, a white button-down shirt, a well-fitted pair of jeans, and a little black dress in your collection.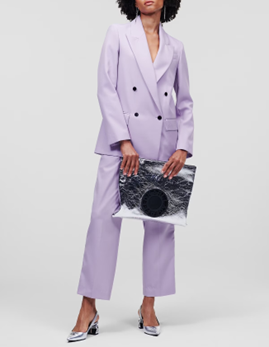 Karl Lagerfeld @ The Collective
Don't be afraid to mix and match
Creating a unique style is all about mixing and matching different pieces. Dare to experiment with colors, patterns, and textures to add interest and personality to your outfits. As Iris Apfel, the legendary fashion icon, said, "More is more and less is a bore." Break the rules and combine unexpected elements to make a fashion statement. Explore the vast selection of eclectic pieces available on The Collective and let your creativity run wild.
Accessorizing
Accessories are the secret sauce that elevates any outfit. They have the power to transform a simple look into a statement ensemble. When selecting accessories, consider your personal style and the occasion. From delicate jewelry to bold statement pieces, accessories can add that extra touch of glamor or edge to your outfit.
Remember that confidence is the ultimate accessory. So, don't be afraid to express yourself through your style choices and let your accessories reflect your unique personality. At The Collective we make sure that our fashion tips for women will bring out the best in you!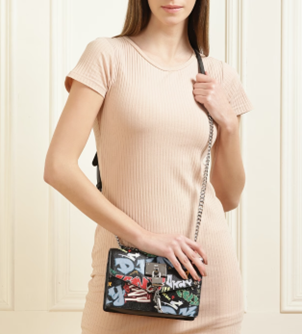 DKNY – Black Graffiti Charm Crossbody Bag @ The Collective
Dressing for Different Occasions
Every occasion calls for a specific dress code, and knowing how to dress appropriately is essential. Whether you're attending a work meeting, a casual outing, a formal event, or a party, having the right outfit can make all the difference.
For work, opt for tailored separates or a chic dress that exudes professionalism. Coco Chanel once said, "Dress shabbily, and they remember the dress; dress impeccably, and they remember the woman." Dress to impress and let your style speak volumes about your competence and confidence.
Developing Personal Style
Personal style is a reflection of who you are and what you love. Embrace your individuality and allow your fashion choices to showcase your unique personality. Experiment with different trends, silhouettes, and colors to discover what resonates with you the most.
As Ralph Lauren once said, "Style is very personal. It has nothing to do with fashion. Fashion is over quickly. Style is forever." Let your personal style be your signature and embrace it with grace and confidence.
In conclusion, these fashion tips for women are meant to inspire and empower you to express your individuality through style. Experiment, have fun with fashion, and be true to yourself. As you embark on your fashion journey, remember to share your favorite fashion tips and personal style moments on social media using the hashtag #StyleJourney@TheCollective. Together, let's celebrate the joy of fashion and inspire others to embrace their unique style. Remember, fashion is not just about what you wear; it's about how you wear it and the confidence you exude.
Now, head over to The Collective and explore their wide range of fashion options, where you can find classic pieces, trendy accessories, and unique garments to curate your perfect wardrobe. Happy styling!