Who hasn't appreciated the look of a jacket in a polished outfit? Hitting us at the waist or hip, jackets add a finishing layer of style and elegance to ensembles. What's more, they act as protectors from the weather or unforgiving workplace air conditioning.
We've rounded up some women's jacket styles and types of ladies' coats so that you just need to click. Let's get going!
Casual Queen
There are so many ways to style outfits with jackets. Let's look at the different types of jackets for ladies that are perfect for non-work or non-formal wear.
Denim Jackets
PC: The Collective Website, Brand: Karl Lagerfeld
Made of one of the world's most beloved fabrics, denim, these jackets are a great wardrobe staple that go with any outfit. From jeans to dresses and work shirts, the denim jacket adds a layer of style. Wear them when you need that little extra in an outfit, be it casual Fridays at work or a date in the evening. Cropped jackets add a feminine touch, bringing attention to your waist, no matter what they're paired with.
Choose denim jackets from Karl Lagerfeld, DKNY, Seven For All Mankind, True Religion and more.
Other Jackets
PC: The Collective Website, Brand: Karl Lagerfeld
From cotton and linen to tweed and cashmere, female jacket styles abound in a variety of fabrics. When you're styling these kinds of jackets, it's best to match fabrics and occasions. Whether you're pairing your jackets with women's dresses, jeans, skirts or any other item of clothing, you need to look at the length of the jacket, where it will hit your outfit and whether it's enhancing your look or hiding embellishments and more. All the non-demin types of ladies jackets are perfect for casual occasions like dates and lunches as well as smart casual events related to work or even get-togethers.
Explore smart casual jackets from Michael Kors, DKNY, Polo Ralph Lauren, Ted Baker, Fred Perry and more.
Bomber Jackets
PC: The Collective Website, Brand: Versace Jeans Couture
Bomber jackets are biker-style clothing that are increasingly androgynous. Contemporary, just a little bit punk, and stylish, they emphasise your femininity by contrast. Form a delicious contrast with maxi or pencil skirts and lace dresses or sport a tomboyish edge by wearing women's torn jeans, shorts, and plain dresses.
Slip into bomber jackets from Versace Jeans Couture, Karl Lagerfeld, Fred Perry and more.
Formal Jackets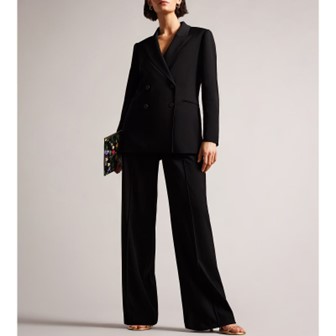 PC: The Collective Website, Brand: Ted Baker
Stride into work with your game face and your don't-mess-with-me jacket on. Made of materials as varied as suede, polyester, linen, leather, tweed, and more, formal jackets are sometimes interchangeable with blazers. Adding a professional touch, they help pull together an ensemble in ways that make you look authoritative and capable. Style them with silk blouses or delicate jewellery and you've got a winning hand no matter what work event or boardroom meeting you're at.
Choose work jackets from Ted Baker, Polo Ralph Lauren, Rinascimento and more.
Overcoats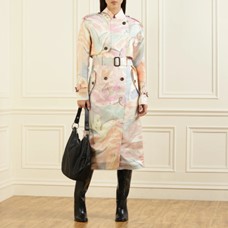 PC: The Collective Website, Brand: Ted Baker
Interchangeable with trench coats in milder climes, an overcoat is long, elegant, and breath-taking. When it's cut well, it is one of the most stunning pieces of apparel on a woman. Adding a swashbuckling edge to your look, it not only keeps you warm but allows you to cover up your entire outfit for a grand reveal. Paired with scarves, long necklaces, leather gloves, and boots, it is a timeless winter outfit. Wear it to fine dine restaurants or that uber chic Christmas party at global headquarters and you'll make a statement just by walking in.
The Collective has a range of overcoats from brands including Michael Kors, Phase Eight, Ted Baker and more.
Winter Jackets
PC: The Collective Website, Brand: Phase Eight
Cut shorter than overcoats, winter jackets are perfect for those who need oodles of style but minimal warmth. Perfect for when it's just chilly outside, winter jackets are structured and precise in cut and fall. Adding a slight edge to dresses and trouser outfits, they give your ensemble that soft edge. Wear them to work events, posh get-togethers, and even nights out with long necklaces, gloves, and scarves, and you're going to be noticed.
Choose elegant winter jackets from brands as varied as Polo Ralph Lauren, Phase Eight, Ted Baker and more.
With all these types of jackets for women, you might find it hard to choose. Remember that you can always experiment and play with textures, lengths, and cuts. It's not about choosing the perfect jacket in general – it's about choosing the right jacket for you for that particular occasion. Start by investing in simpler pieces and work your way up to daring cuts and silhouettes. As always, we're here to help.