Shirts are an essential wardrobe staple for men, offering versatility and endless styling possibilities. Whether you're aiming for a casual, formal, or smart-casual look, choosing the right shirt can make all the difference. At The Collective, we understand the significance of men's fashion and aim to provide you with a comprehensive guide to different types of shirts. With our wide range of premium shirts available, this blog post will help you make informed choices and elevate your style to new heights with the exciting types of shirts for men and the different shirt styles.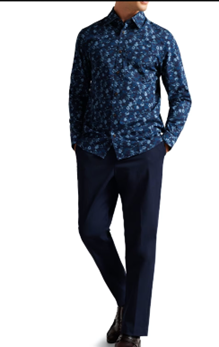 Ted Baker: Navy Floral Print Casual Shirt @ The Collective
Casual Shirts: Effortless Elegance for Every Occasion
Casual shirts for men are the epitome of relaxed yet refined fashion. The Collective offers a diverse collection of casual shirts that cater to different tastes and occasions. Let's explore some popular types of casual shirts and the respective shirt name:
Polo Shirts: Polo shirts for men

are a timeless classic that effortlessly combines comfort and sophistication." – Ralph Lauren. These collared shirts with a two- or three-button placket offer a sporty yet refined look. Pair them with chinos or jeans for a smart-casual outfit.

Henley Shirts :Henley shirts exude a laid-back charm with their buttoned plackets and soft, breathable fabrics. They are perfect for creating a relaxed and stylish ensemble. Combine them with shorts or jeans for a cool and comfortable summer look.
Oxford Shirts: The Oxford shirt is the epitome of relaxed elegance." – Tom Ford. Known for their button-down collars and durable fabric, Oxford  shirts strike the perfect balance between casual and formal. Wear them with chinos or dress them up with tailored trousers for a sophisticated look.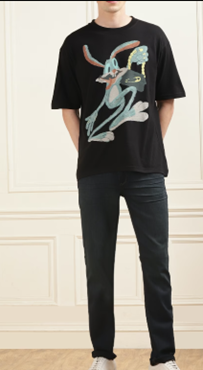 Domrebel : Black Shopper Bunny T-Shirt @ The Collective
T-Shirts: Versatile Wardrobe Essentials
Of all the types of shirts and men's shirt styles available out there, T-shirts for men are the go-to choice for casual dressing. The Collective offers a wide array of T-shirts in different styles and fabrics, allowing you to express your personal style. Consider these options:
Neck Styles : From classic crew necks to trendy V-necks, The Collective offers a variety of neck styles. Experiment with different options to find the one that suits your style and flatters your physique.
Sleeve Lengths: T-shirts are available in various sleeve lengths, including short sleeves, long sleeves, and even sleeveless options. Choose the length that best suits the occasion and weather.
Fabric Choices : Opt for high-quality fabrics like cotton or blended materials for superior comfort and durability. The Collective offers T-shirts crafted from premium fabrics that ensure breathability and softness.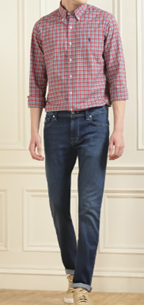 Polo Ralph Lauren: Maroon All-Over Checks Shirt @ The Collective
Check Shirts: Timeless Patterns for Every Look
Check shirts are a versatile choice, suitable for both casual and semi-formal occasions. At The Collective, we offer an exquisite range of check shirts in various styles and colors. Here's what you need to know:
Check Shirts vs. Dress Shirts : While check shirts share some similarities with dress shirts, they have a more relaxed vibe. Dress them up with tailored trousers and a blazer for a semi-formal look, or wear them casually with jeans and sneakers.
Styling Tips: Experiment with different patterns, such as gingham, tartan, or windowpane checks, to add depth and dimension to your outfit. You can also layer check shirts with a solid-colored sweater or wear them open over a T-shirt for a laid-back look.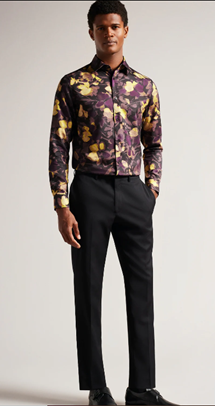 Ted Baker: Brown Sleven Long Sleeve Watercolour Print Shirt @ The Collective
Printed Shirts: Express Your Unique Style
Printed shirts offer an excellent opportunity to showcase your personality and make a bold fashion statement. The Collective presents an exquisite collection of printed shirts designed by renowned fashion designers. Consider the following factors when choosing printed shirts:
Collar and Cuff Styles: Select from a range of collar styles, including spread collars, button-down collars, or band collars, to add a touch of individuality to your ensemble. Additionally, pay attention to cuff styles, such as barrel cuffs or French cuffs, for added sophistication.
Fabric Options: Opt for luxurious fabrics like silk or satin for a refined and eye-catching look. The Collective offers a variety of printed shirts crafted from premium materials to ensure superior quality and style.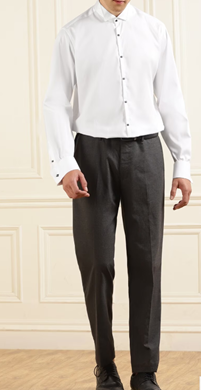 Karl Lagerfeld: White Side K Embroidery Shirt @ The Collective
Solid Shirts: Timeless Elegance in Simplicity
Solid shirts are the most sort after men's shirt styles and a wardrobe essential. They provide a clean and versatile canvas for various outfits. Consider the following aspects when selecting solid shirts:
Patterns and Colors: Experiment with different solid colors and patterns, such as herringbone or twill weaves, to add subtle texture and interest to your look. The Collective offers an extensive range of solid shirts in various hues, ensuring you find the perfect match.
Layering and Styling: Solid shirts are incredibly versatile and can be paired with a variety of garments. Layer them under blazers, cardigans, or sweaters for a refined and polished appearance. Alternatively, wear them open over a T-shirt for a casual yet sophisticated look.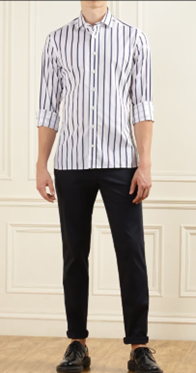 Hackett London : White Bold Vertical Stripes Shirt @ The Collective
Striped Shirts: Classic Appeal with a Modern Twist
Striped shirts effortlessly blend timeless elegance with contemporary style. At The Collective, we offer a diverse selection of striped shirts to suit every occasion. Consider the following when choosing striped shirts:
Patterns and Colors: Experiment with different stripe widths, from pinstripes to bold rugby stripes, to create different visual effects. Select colors that complement your complexion and match your personal style.
Layering and Styling: Striped shirts can be paired with various garments to achieve different looks. Wear them under a blazer for a polished appearance or dress them down with jeans for a casual yet refined outfit.
Maintenance and Care Tips: Preserve Your Shirts' Excellence
To ensure your shirts maintain their pristine condition, it's essential to follow proper care guidelines. Here are some tips to prolong their lifespan:
Washing: Follow the care instructions provided by The Collective for each shirt. Sort your shirts by color and wash them in cold water with a gentle detergent. Avoid bleach or harsh chemicals that may damage the fabric.
Ironing: Iron your shirts while they are still slightly damp to achieve a crisp finish. Use the appropriate heat settings for the fabric to avoid scorching or melting.
Storage: Hang your shirts on quality hangers to maintain their shape and prevent wrinkles. Store them in a cool, dry place away from direct sunlight and moisture.
Conclusion
By exploring the different types of shirts for men available at The Collective, you can elevate your style and create versatile and sophisticated looks. Whether you prefer casual shirts, T-shirts, check shirts, printed shirts, solid shirts, striped shirts, or a combination of styles, The Collective has you covered. Remember to care for your shirts diligently to ensure their longevity. Now, it's time to experiment, embrace your individuality, and showcase your impeccable fashion sense. Share your favorite types of shirts names or types of shirts on social media using the hashtag #TheCollectiveStyle and inspire others with your remarkable fashion choices.
Visit The Collective website to explore our exclusive collection of men's shirt styles and start building a wardrobe that truly reflects your unique style.