THE COLLECTIVE COVER STORY
The Collective Cover Story: This initiative, on a monthly basis, honours one of India's leading entrepreneurs, industry contributors, upcoming actors, athletes, or other prominent personalities who are at the forefront of their respective industries and who have contributed to the growth of their industry and society. It aims to bring together leaders from different walks of life to celebrate them, their journey, and their sense of style.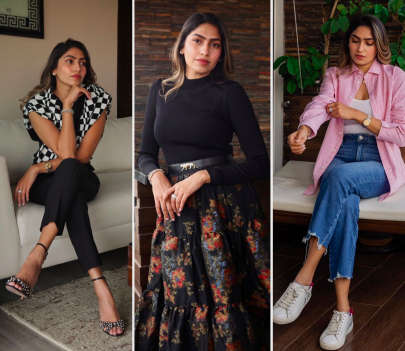 Minimalism finds a warm embrace in Isha Sutaria's glow-chasing lifestyle. This skincare guru, whose insights find a home between the glossy pages of Vogue, ensures her couture is as effective and minimalistic as her skincare routine. For someone who is always on the go, outfitting every fashion need is a hassle. Isha shares her glow-getting journey with The Collective.
Button Down, Style Up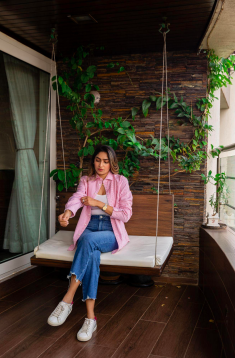 Abiding by the philosophy of "less is more," extends beyond skincare for Isha. On days when picking out an outfit feels like the end of the world, she likes to minimize and simplify her outfits. Her pick for a fabulous yet comfortable outfit is the Pink Striped Shirt by Polo Ralph Lauren from The Collective. Wear it as an over-shirt with a white tank top and plain blue jeans, or style it up formally by simply tucking the shirt into a pair of fitted trousers. This is the perfect outfit for a work-to-weekend mode Friday.
Ted Baker-ed to Perfection
For a fun night out, Isha keeps it simple but chic with a full-sleeved black t-shirt paired with Ted Baker's Black Floral Tiered Midi Skirt from The Collective. The outfit is perfectly balanced, with a solid-coloured top and a floral printed skirt, making the outfit elegant yet easy to replicate. Black is a style statement all on its own, but Isha's fun trick to pair it with something earthy yet minimalistic adds a fun charm to the ensemble.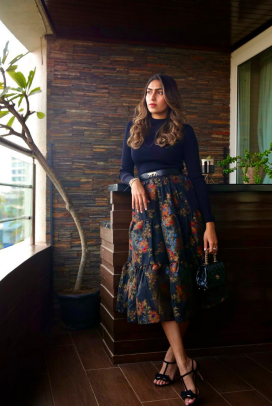 Cowl, Don't Scowl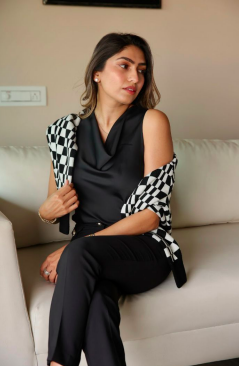 Nothing embodies Isha's "less is more" approach like her go-to black and white outfit. The Collective's Rinascimento cowled neck Black Solid Top With Chain Detail On the Back chosen by her goes perfectly with a pair of chic black trousers and a statement black and white jacket. The abstract print of the jacket adds character to a simple outfit without overwhelming the minimalism of the look.
Isha Sutaria swears by not breaking what is not broken and takes the same approach while making any styling choices. After all, just like our skin, the classiest of outfits are best left unperturbed. Maintaining the beauty of a classic look keeps her fashion quotient a cut above the rest. When in doubt, minimalize it out!