In a world where fashion trends come and go, a designer bag is a truly timeless luxury. These exquisite creations exude sophistication and serve as a smart style investment. Whether you pick a tote, a satchel, a crossbody or a shoulder back with a wallet, each unique luxury designer has its own elegance.
This guide on timeless luxury bags for women takes you on a journey through iconic designer bags that never go out of style. From the classic elegance of Ted Baker to the modern allure of Hugo, these bags are sure to captivate your fashion-loving heart.
The Timeless Classic: Ted Baker Bag
When it comes to timeless elegance, Ted Baker bags stand in a league of their own. With a rich history and iconic status, the brand's quirky and unique designs always stand out. Ted Baker bags are crafted with meticulous attention to detail and showcase flawless designs that are effortlessly versatile. Moreover, every bag is a cruelty-free sustainable piece made from ethically sourced leather. When choosing the perfect Ted Baker bag, consider the right size, colour, and hardware that complements your personal style. Pick from printed, floral, patterned and studded bags to jazz up every occasion – from a formal event to a casual outing. These bags will be your trusted companions.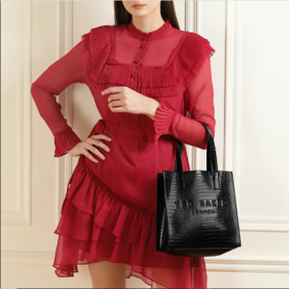 The Iconic: Michael Kors Bag
No discussion about luxury designer bags is complete without the legendary Michael Kors. Renowned for its impeccable craftsmanship and exclusivity, this bag is a true investment piece. Michael Kors bags are made from Saffiano leather that retains its original colour and gives a waterproof finish. The end product is a sturdy piece that can survive all your drama while retaining its elegance. The best way to spot a Michael Kors is to look out for weightier bags with one-piece side panels and snug rubber edging. Accentuate your look with any of his textured two-toned or monochrome pieces.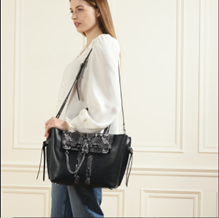 The Understated Sophistication: Love Moschino
For those who appreciate understated sophistication, the Love Moschino Bag is an impeccable choice. Its clean lines, high-quality materials, and attention to detail exude minimalist luxury. The Italian brand's designer bags are made using polyurethane, a cruelty-free and sturdy leather. The faux finish on the bags is available in different colours allowing you to find the perfect match for your personal style. Whether you're running errands or attending a formal occasion, this bag effortlessly complements your look with its refined elegance.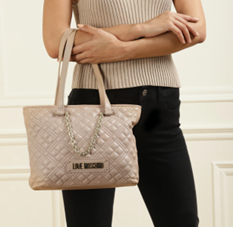 The Modern Classic: Karl Lagerfeld
When modernity meets timelessness, the Karl Lagerfeld Bag is born. Crafted with durable Saffiano leather and featuring clean lines and practicality, this bag seamlessly combines contemporary style with enduring appeal. With a range of sizes, colours, and variations such as double zip or top handle, the Karl Lagerfeld Bag is a versatile companion for any occasion. Be it a productive workday or a glamorous night out, this bag effortlessly adapts to your needs. Of all the fashion designer bags, Karl Lagerfeld will make you stop in your steps.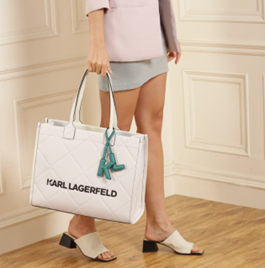 The Effortless Chic: Hugo
If you are a trendsetter who loves to make a statement, the Hugo Bag is your partner in crime. Its distinctive design includes the signature tiger head closure and embroidered motifs, exuding contemporary charm. Available in various sizes, materials, and embellishments, Hugo bags allow you to express your unique style. It could be an event with a fashion-forward dress code or just a casual outing, this bag adds a touch of effortless chic to any ensemble.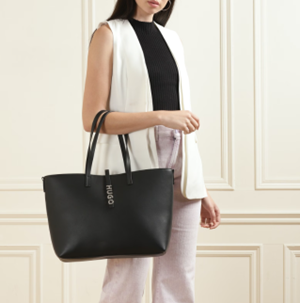 Conclusion:
Want to know what the best luxury bags for women are? Fortunately, The Collective has an answer to that. Investing in timeless luxury handbag brands is a decision that will never go out of style. The best designer bag brands, from the classic elegance of Ted Baker to the contemporary charm of Hugo, represent the epitome of enduring style, quality craftsmanship, and investment value. When choosing your perfect luxury bag, consider your personal style, needs, and preferences. And once you've made your investment, remember to care for and preserve its longevity. These fashion treasures are not just accessories; they are a symbol of luxury and a testament to your impeccable taste. Buy the best luxury designer bags – only at The Collective!