By Sanjana GL
Mangoes herald the onset of summer so celebrate the mango season with some of the following inventive recipes and have your guests deeply elated with these dazzling dishes featuring the king of fruits.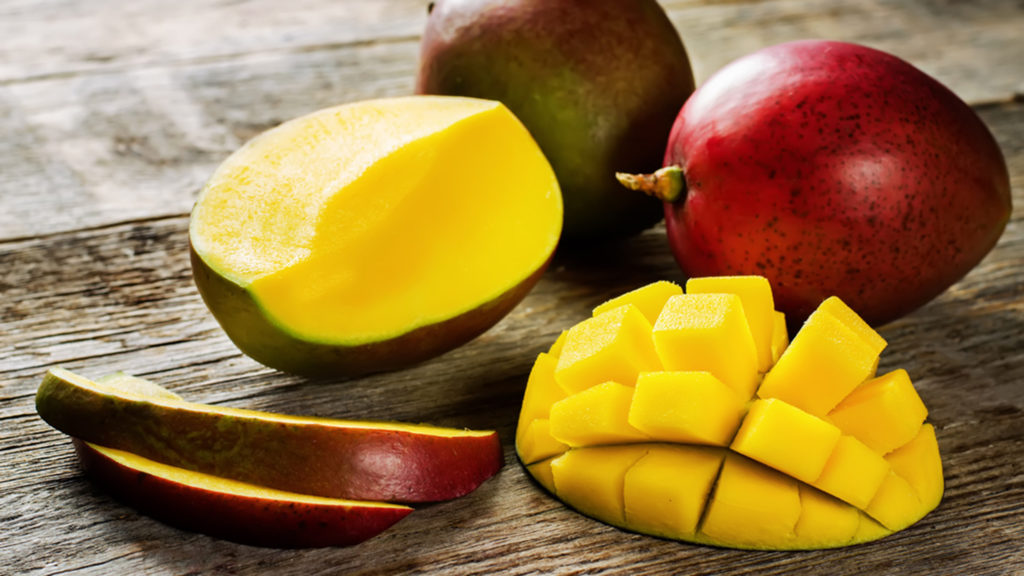 Ripe mangoes with ginger beer
Blend 1 oz of freshly chopped mangoes with 2 oz of ginger beer syrup and 1 oz of soda water in a blender and garnish with mint leaves and lemon wedges. The sharpness of the ginger flavour nicely compliments the sweetness of ripe mangoes.
Mango Daiquiri with coconut rum
Blend in sliced pieces of ripe mangoes with ice and coconut rum until smooth. Top it up with a dollop of whisked heavy cream, coconut rum, sugar and coconut cream and garnish with freshly cut slices of mango.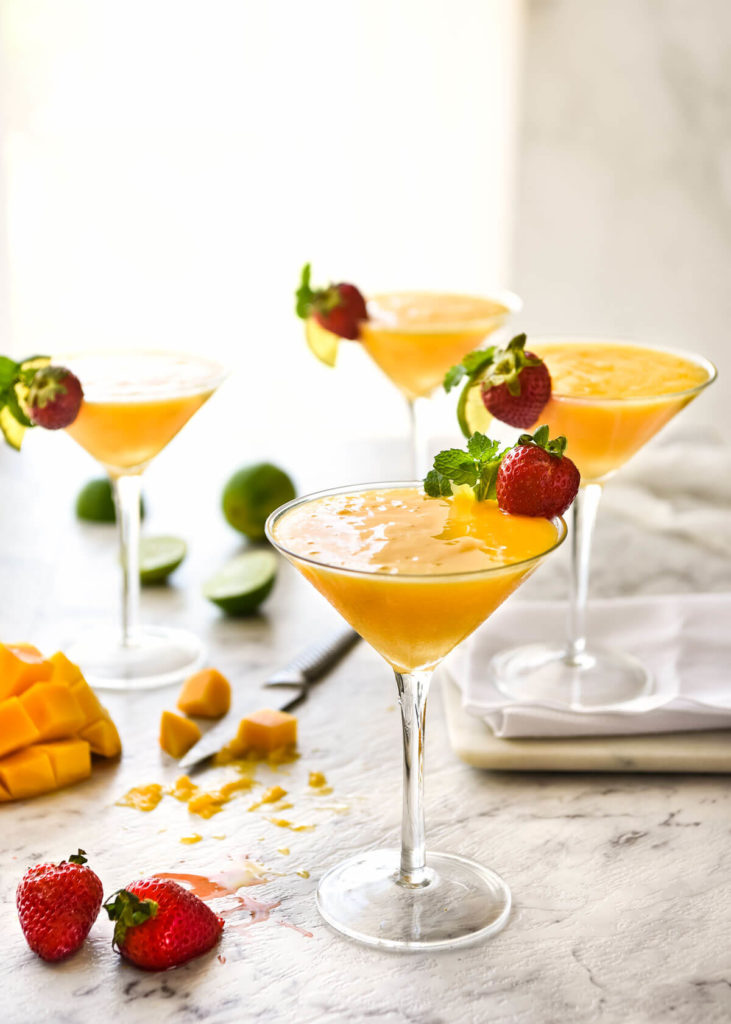 Mango Daiquiri (Image Courtesy : Recipe Tin Eats)
Tequila spiked mangoes with avocado salsa
This summer delight by Liz from the Floating kitchen is a simple salsa recipe with avocados, tequila-soaked mangoes, jalapenos, cilantro and red onions. This stylish mango snack can be whipped up in a jiffy.
Mango gazpacho with pickled shrimp
This easy to make, classic European dish marries well with pickled shrimps and makes for a perfect light summer snack. The sweet and sour soup combines the sweetness of mangoes with tangy jalapenos, onions, red bell peppers, lime juice, cilantro and orange juice to create a healthy summer meal. You can adjust the sweet and sour note to your liking by changing the ingredient proportions.
For the pickled shrimps, combine lemon, onions, cider vinegar, capers, celery seeds, salt, sugar, and Tabasco in a large bowl. Toss in the shrimps, mix well and refrigerate for a day. Stir occasionally and serve chilled with the mango gazpacho.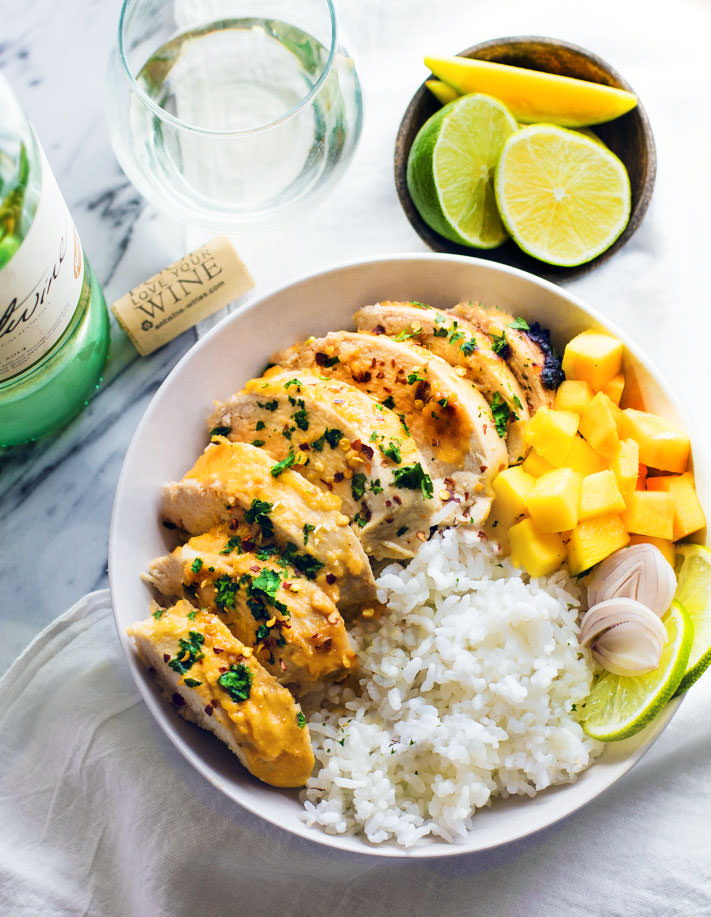 Healthy Mango Recipes (Image Courtesy :Cotter Crunch)
Mango with mushrooms in oyster sauce
Stir-fry onions, red peppers and blanched mushrooms with chopped mango slices. Add oyster sauce for seasoning and serve in the scooped out half shells of mango. Garnish with coriander.
Mango with black rice
This cold, crunchy salad of cooked black rice combines ripe mango slices, cilantro, scallions, onions and sunflower seeds with a dressing of soy sauce, olive oil, lemon and grapefruit juice that renders intense flavours and textures. Find the recipe here.
Toasted lime marshmallows with mango
Preparing the toasted lime marshmallows is totally worth the effort. The smoked tangy flavour of the lemons combined with the gooey texture of the marshmallows cuts through the sweetness of the juicy mangoes creating a perfect balance of flavours. This modern Australian dessert can be found at the gourmet traveler website.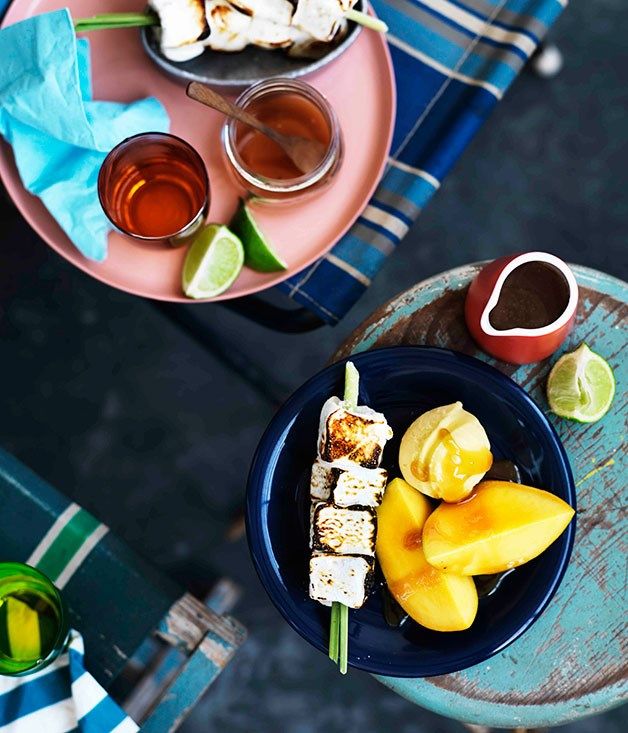 Toasted Lime Marshmallows with Mangoes ( Image Courtesy :Pinterest)
Mango peppermint smoothie
Here's how you make it this refreshing drink: Add mango chunks, peppermint tea, brown sugar, and yogurt in a blender. Blend well and garnish with mint leaves. You can adjust the proportions to your liking.
Baked Brie with mango
In a baking dish, spread a thick layer of raspberry preserve over pieces of Brie cheese and top it with chopped ripe mangoes. With generous sprinkles of brown sugar over it, bake for ten minutes in a preheated oven (400 degrees) until the cheese begins to melt. Serve hot with breadsticks and crackers. The salty cheese and the tangy sweetness of the mangoes pair deliciously well with the raspberry preserve.