By Amit GT
With over 600 isles in Great Britain, there is quite a riot of diversity and culture that harks back to the age as old as Stone Henge. Fashion and style from Britain boasts arts and craftsmanship astounding enough to vie for the Queen's attention. With Guernsey in the south to mighty Hebrides in the North and the English countryside in between, there so much to pick up from the sartorial style of the natives of the Isles.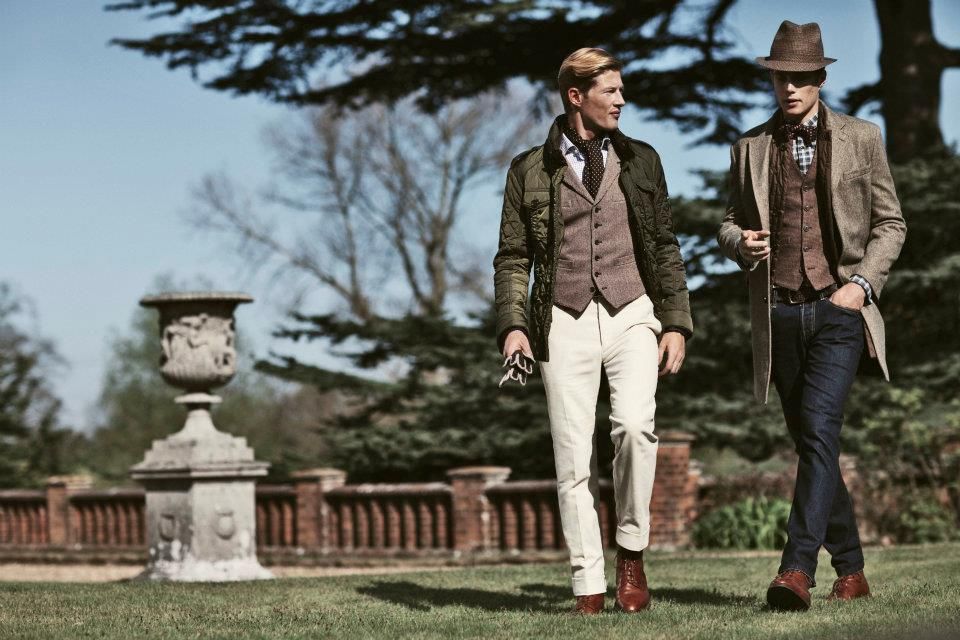 Quintessential British style (Image courtesy :Pinterest)
The idea is to have fun and mingle with the British swish set in your distinctive style and yet look the part.
Style tips for men:
If you are invited to a yacht party or for a lazy brunch, opt for a Trilby hat, tennis shoes or loafers, Glen Check or Plaid trousers and a Henley T-shirt. For snazzy sundowners or soirees, have on some Tattersalls or gingham shirts, Herringbone or plaid coats, academic striped ties or pocket squares (don't get caught dead in both at the same time) and lightweight tweed pants or gabardines. Compliment your look with a pair of brogues. You can give this a spin for a little casual look by jettisoning your formal coat for an Eisenhower jacket or a Norfolk coat.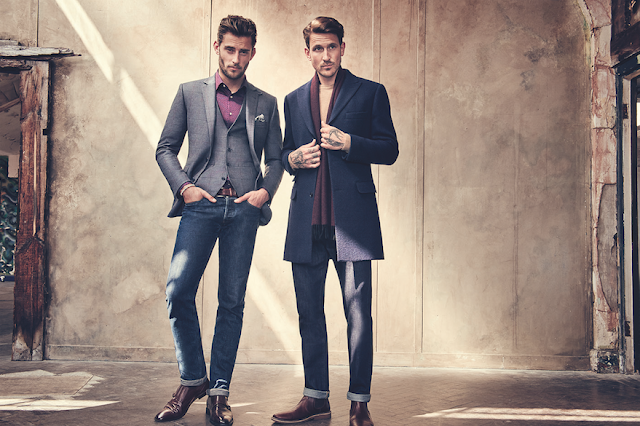 British tailoring (Image Courtesy :Moss Boss)
Remember to add in some local flavour with local textiles without smothering yourself in them. Just a little inclination to local heritage would do. If you are going the British way in your sartorial affairs, you cannot do it right unless you know their textiles which are as distinct as their coat of arms. The British Isles offer a smorgasbord of textiles like tweeds, plaids, ginghams, tartans and jerseys each having a unique blend of colour schemes and patterns, often identified by the names of the region themselves.
Style tips for women:
In the day, channel the spirit of Kate Moss. Picture her luxuriating on the Welsh Coast in crocheted coverups, an itsy-bitsy bikini, a large fedora, coral baubles and flip-flops. Or think of her at a tea party in the English countryside wearing printed tea dresses teamed with crocheted cardigans or plaid shawls solemnising the perfect look with winkle-picker boots and matching Beret. After which maybe she drives down to check in to The Dorchester in a prim Spencer flannel jacket with a basque top underneath and drainpipe trousers.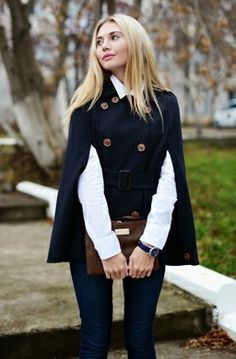 Classic English Style (Image Courtesy : Pinterest)
If you like old school lady-like sophistication, decode the style of Kate Middleton. Swear by fine cashmere Pea Coats or Mackintosh at day events like The Royal Ascot or jet off to Cambridge in paisley scarves, tartan trench or duffel coats finishing your look with a matching Trilby or Cloche cap. Then sashay down to the champagne soiree in a tea-length dress or go bohemian in a ruffled chiffon gown.