By Andy Barve
What's trending this winter? A ton of chill, of course, plus so much good fashion to dial up the coolness to your everyday wardrobe. Bold prints and patterns are currently one of the dominating trends in fashion right now – the world over. Call it the return of the expressionist era, if you please! There's no shortage of brightness from an admixture of prints at Versace (Sistine Chapel walls meet Serengeti leopards) to rad plaid at Michael Kors. No matter what your pick, you'll be talked about – for the right reasons.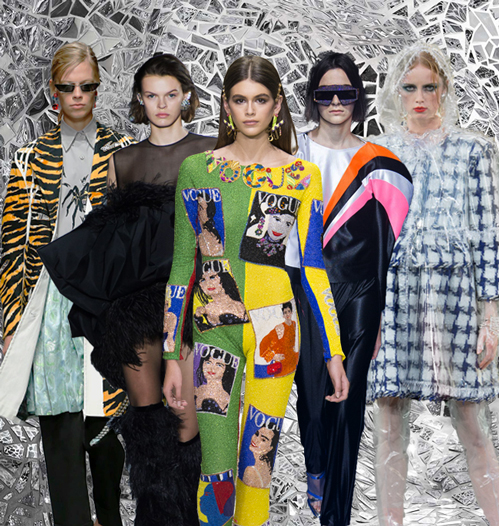 Pop prints (Image Courtesy: Vogue Paris)
#1 – Big florals
They are bright and come in full bloom for summer and winter. Dramatic and bolder than ever, floral is a sought-after print, which shows no signs of slowing down or fading out. Join this 'avant garden' party by opting for an all-floral printed dress paired with combat boots or empower a simple buttoned down white shirt with a pair of high-waisted 70s style flared pants with an over-splash of the floral print.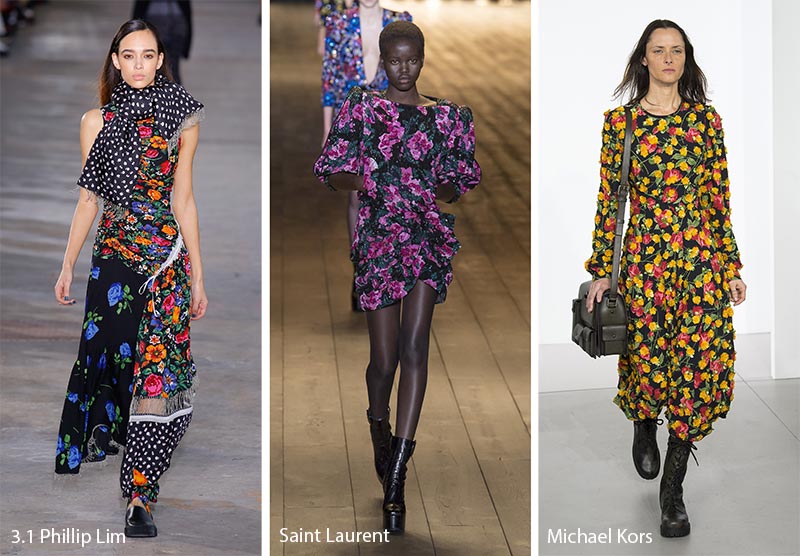 Floral prints (Image Courtesy : Glowsly)
#2 – Vibrant checks
Gingham, tartan, plaid and classic tweed style checks showed up on jackets, skirts, two-piece separates, and were anything but dull. Versace used an array of colours and planted them on a layered and destructured look. Also, Donatella Versace's reinterpretation of the Alicia Silverstone look from 'Clueless' took us back to school. You've got to love the trend with checked high-waisted cropped pants and a graphic white tee. Add on leather boots to channel a punk-rock vibe.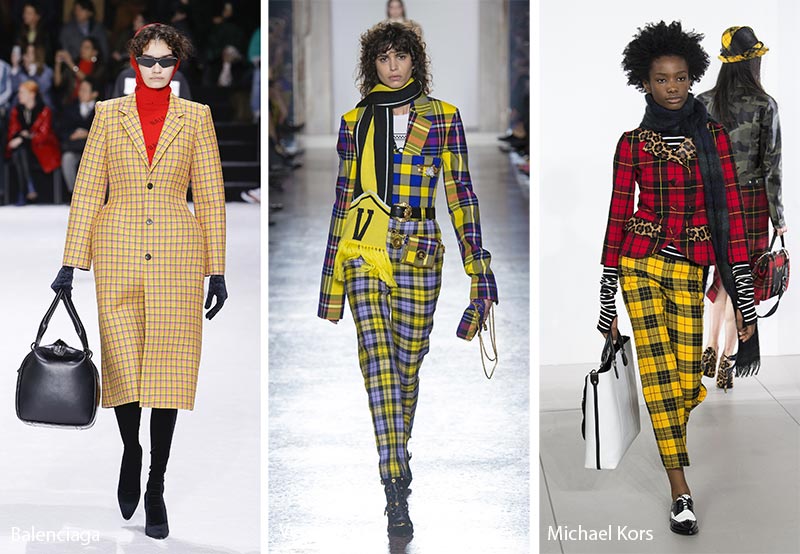 Check prints (Image Courtesy : Glowsly)
#3 – Into the wild
Definitely not for the faint hearted, this trend laid down the law, and not in tiny measures but from head-to-toe. From spotted jungle cats to grass grazing stripy zebras to slithering and scaly snakeskin prints – the catwalk was a full-on jungle safari of sorts. Invest in an animal print silk shirt if you have a fearless personality, but if your style is slightly demure, pick accessories — like scarves or handbags with prints that help you channel your spirit animal in subtle ways.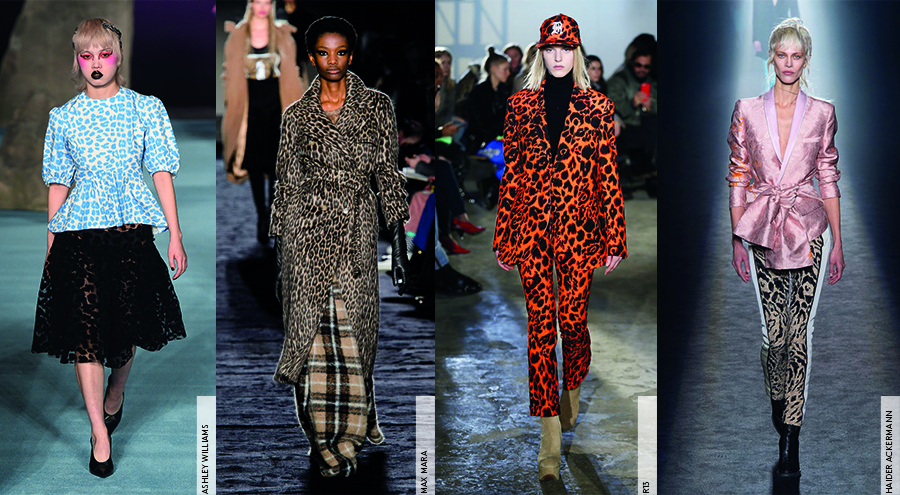 Animal prints (Image Courtesy : Range Room)
#4 – Logomania
Once considered distasteful and flavourless, logo prints are all the rage this season. While Armani showed off its logo in black on a muted, slick black two-piece suit, Michael Kors boasted its emblem on a varsity jacket with sliders with the same. To add to the bevy of trend makers, Burberry revealed its brand new logo under its newly appointed creative director, Ricardo Tisci. Buy into a simple logo tee and combine it with boyfriend jeans and leather platforms. Throw in some bling if attention is what you seek.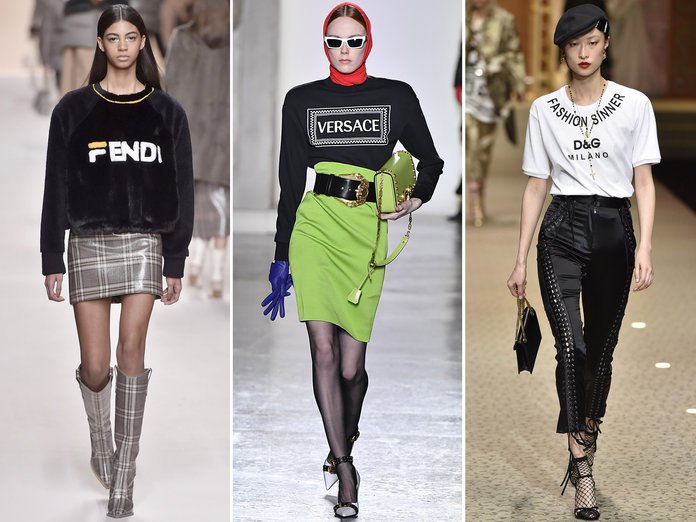 Logomania (Image Courtesy : Jean Avenue )
#5 – Work of art
Artists and painters have always been a chassis of inspiration in fashion. With a bright colour palette, every season arty prints are enhanced to transform them in the most imaginative forms. Go kitschy in an all-over graphic printed dress and bring it home with sorbet pumps.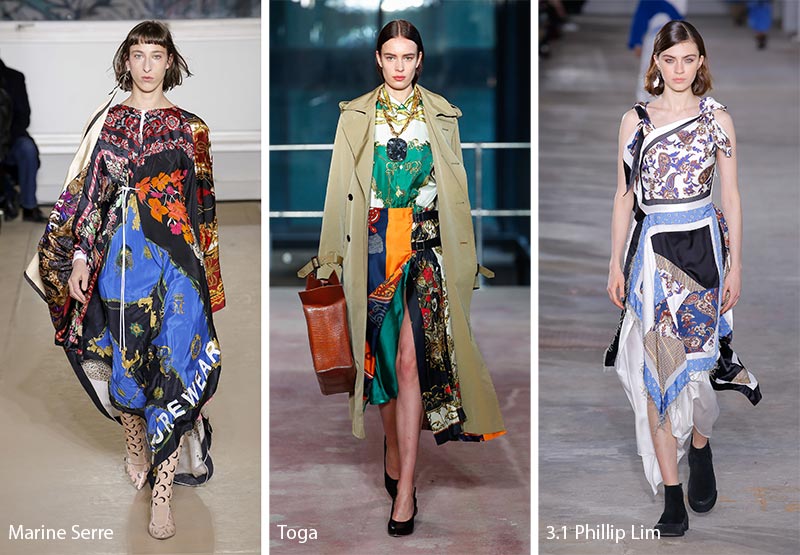 Art prints (Image Courtesy : Glowsly)