Ishika Chopra
The fashion needs of a woman are never easy to fulfil. A wardrobe full of clothes, footwear, bags, jewellery will always seem less to her. This is true that a woman spends most of her money on clothes but she always a little more money on her accessories like footwear, bags, scarves, necklaces etc. But most of all every woman has an essential need of carrying a bag. Fashion now is not restricted to women only. Men and women both have the urge of passing a statement when they pass from a place. The bag they carry is not only filled with their everyday essentials but also with the reflection of their personality. Owning a bag that reflects your personality is important because it allows you to accurately define your style. In spite of being fearless and bold, everyone always has much more inside them which can be defined by what they carry. Owning a statement bag not only gives confidence to the outfit but also makes the overall look classy and sophisticated. Here are a few statement bags that every man and woman should possess for a diva-like look:
BLACK LEATHER TOTE BAG BY RALPH LAUREN FOR HER
A bright polished look of a tote bag adds grace and spice to your look. It also gives a little professional taste to your body. A tote bag can be used not only when you need to fill a lot of your stuff in your bag but it can also be used when all you want to carry is your walled and makeup. If you have your tote bag while leaving work, a laptop in it gives you a chic and professional look both. Tote bags are now like the crème de la crème of the bag industry, particularly the leather ones that scream expensive. So, if you are looking for a bag to reflect the chic and sophistication in your personality, this is an ideal choice.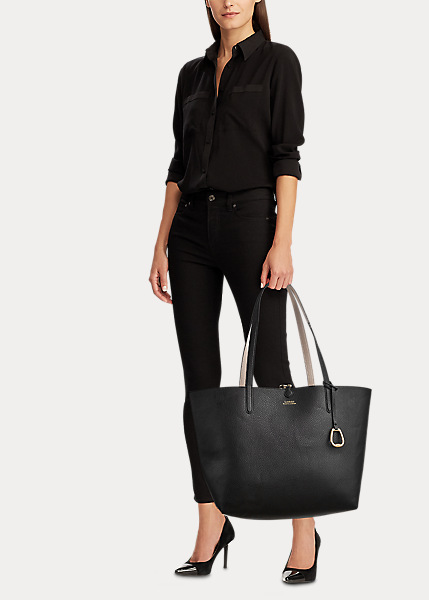 Picture Credit: RalphLauren.com
CROSSBODY BAG BY EMPORIO ARMANI FOR HIM AND HER
Crossbody bags might be one of the best types of bags for travel. Unlike a backpack, you can position one in the front, on the side, or in the back depending on the situation (think inching through a tight aeroplane aisle) and your comfort. Plus, they allow you to keep your hands free. These bags are for a minimal look giving you room for all your essentials. These crossbody bags by Armani is the best choice for a comfortable and chic look each time you travel.
Picture Credit: theimpression.com & Harrods
LEATHER DUFFLE BAG BY TED BAKER FOR HIM
A leather duffle bag is a must-have men's accessory for the ones who are always on the go. It is ideal for light luggage and fits snugly in the boot of your car. A classy, sophisticated leather duffle bag is a big favourite for all the celebs these days. It's compact enough to carry easily, but also with enough room to fit all the essentials. It's also easy to bring aboard the flight or heave along as you walk through cities. This Ted Baker duffle bag gives the right statement for your sophisticated look and personality. Easy to carry, big enough for kinds of travelling and small enough to fit anywhere easily!