A white shirt combination is a timeless and versatile wardrobe staple that effortlessly exudes sophistication and elegance. Its crisp and clean aesthetic makes it a go-to option for any occasion. However, to create a truly stylish outfit, it's crucial to pair your white shirt with the right pants.
This guide to styling a white shirt explores different pants combinations so you achieve a polished and fashionable look.
Elegant and Classic
Recreate one of the most timeless white shirt combinations with formal pants, especially black pants. This effortlessly elegant ensemble is suitable for formal events and business meetings alike. When selecting black pants, opt for a tailored fit that flatters your body shape. Consider the style that suits your preference, whether it's straight-leg, wide-leg, or tapered. The key is to ensure the pants are well-tailored and create a clean silhouette that makes an impact. This classic combination will never go out of style, making it a must-have in every wardrobe.
Casual and Stylish
If you want a casual yet stylish look, you can never go wrong with a white shirt and men jeans. This combination strikes the perfect balance between comfort and fashion. When choosing jeans, consider the wash and colour that best suits your style. Dark-washed jeans offer a dressier vibe, while medium or light-washed jeans provide a more relaxed feel. Experiment with rolling up the sleeves of your white shirt and tucking it into your jeans for a laid-back yet put-together look. Complete the outfit with accessories like a statement belt and a pair of stylish sneakers. Use this combination for an effortlessly cool and confident vibe. Try not to do a white shirt and white pants combination unless it's for a themed party!
You can never go wrong with a white shirt and pants combination from Evisu, Polo Ralph Lauren and even Versace, found only at the Collective!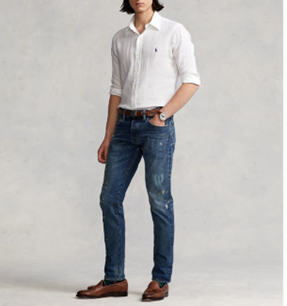 Trendy and Fashion-Forward
Create a trendy and fashion-forward outfit with your white t-shirt and matching pants using unconventional styles. Coloured or patterned pants can instantly elevate your look and make a bold statement. When opting for coloured pants, choose hues that complement your complexion and the overall colour palette of your outfit. Patterned pants, such as stripes or florals, can add visual interest and create a unique ensemble. To balance the outfit, keep the focus on the white shirt combination pants and choose neutral accessories. A pair of sleek heels or ankle boots will complete the trendy and fashion-forward look.
Get inspired by collections from Ted Baker and Michael Kors for the ultimate outfits!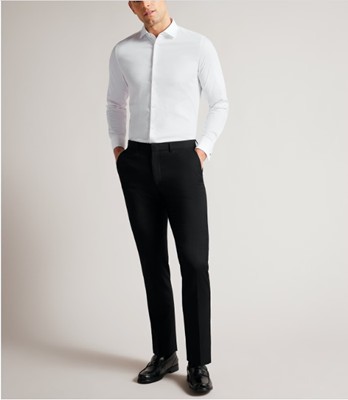 Conclusion:
A versatile wardrobe essential, the white shirt and matching pants can effortlessly elevate your style. However, choosing the right pants to pair with it is crucial to create a polished and fashionable outfit. Opt for the classic combination of a white shirt with black pants for a timeless look, or pick a casual and stylish ensemble with jeans from The Collective. Experiment with different combinations, discover your personal style and confidently express yourself through fashion.
Remember, fashion is not just about the clothes you wear; it's about how you carry yourself. Nothing gives you that boost of confidence more than the right outfit.
Visit The Collective, create your unique outfit styles with white shirts and elevate your wardrobe to new heights.