THE COLLECTIVE COVER STORY
The Collective Cover Story: This initiative, on a monthly basis, honours one of India's leading entrepreneurs, industry contributors, upcoming actors, athletes, or other prominent personalities who are at the forefront of their respective industries and who have contributed to the growth of their industry and society. It aims to bring together leaders from different walks of life to celebrate them, their journey, and their sense of style.
Gurmehar Sethi is a New Age Food Entrepreneur and has journeyed through his years to become a well-known Chef and Owner of a famous restaurant in New Delhi called 'ZIU'- Innovative Thai Cuisine, ZIU Dubai, and the more recently launched Klap, New Delhi. In the three years since its establishment, ZIU has received three Awards including, the Times Food Award for Best Thai Restaurant 2017, Best Oriental Restaurant 2018, and Best Regional Restaurant Award. Gurmehar switches roles from being in the kitchen as a chef to being an entrepreneur and his style tends to balance both aspects of the business. It's more or less of a simple look with mostly monochrome colours, a look that is sporty yet elegant. One of the most dedicated chef-entrepreneurs, Gurmehar shares with us his journey, how he defines fashion and why he resonates with The Collective.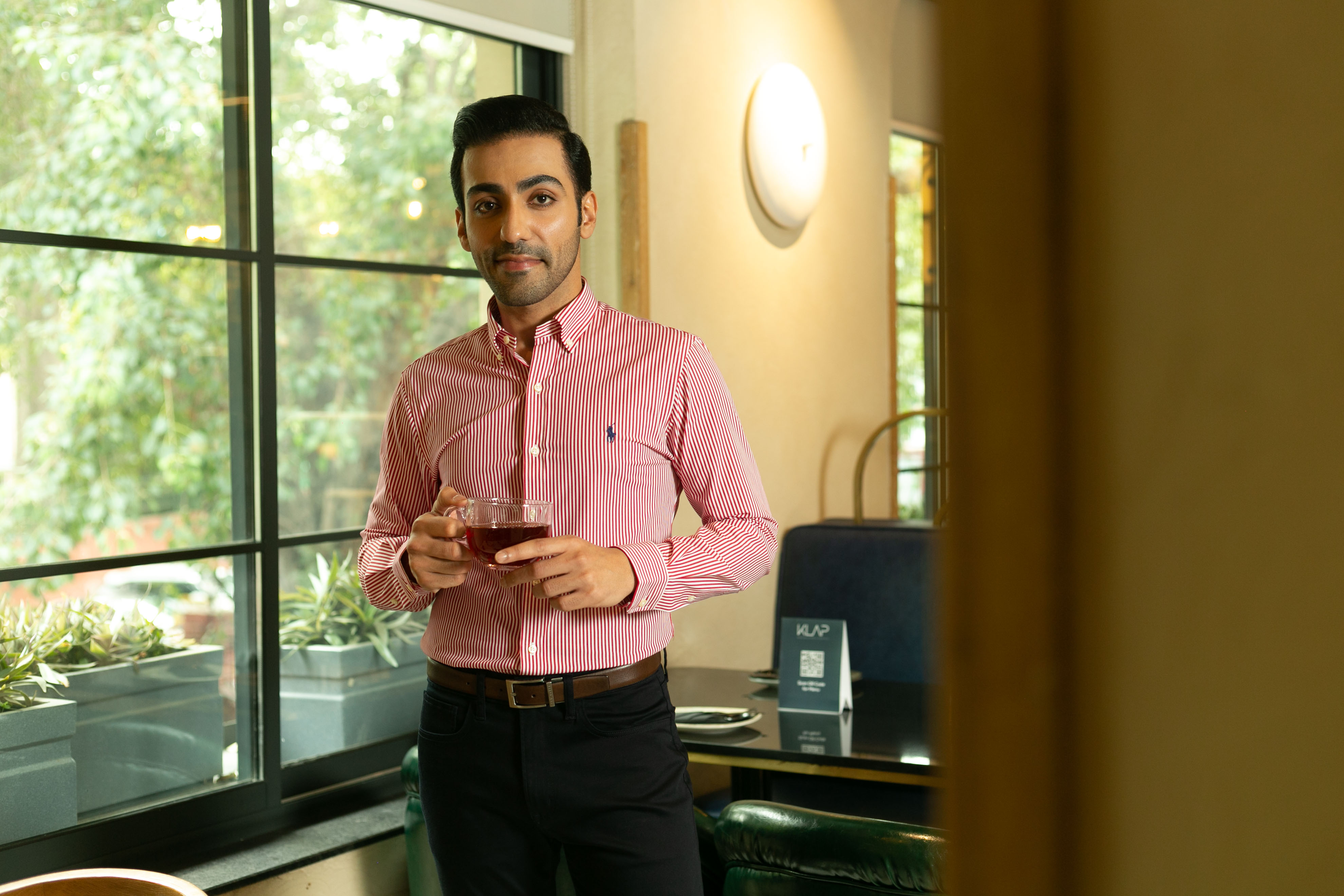 "Fashion for me begins with wearing my Chef's heart on my sleeve. It's culinary on one hand and clothing on the other, but we're both fashioning a vibrant lifestyle that looks to the future with a little bit of boldness, a little bit of quirky, creative bravery, while always leaving some space for that unexpected surprise." – Gurmehar Seth
Ready Set Sport!
Design and functionality meet halfway for athletic wear to be born. Uncovering the real meaning behind activewear, we can see it comes as a transition from exercising to casual wear. Time is a fluid concept for a busy chef, so the AM-PM transitions where clothes and accessories are concerned have to be equally fluid. The Karl Lagerfeld sweatshirt and track pants give Gurmehar a perfect way to stay stylish and at the same time have comfort, giving him an opportunity to stay active and modish without having to compromise on his unique style.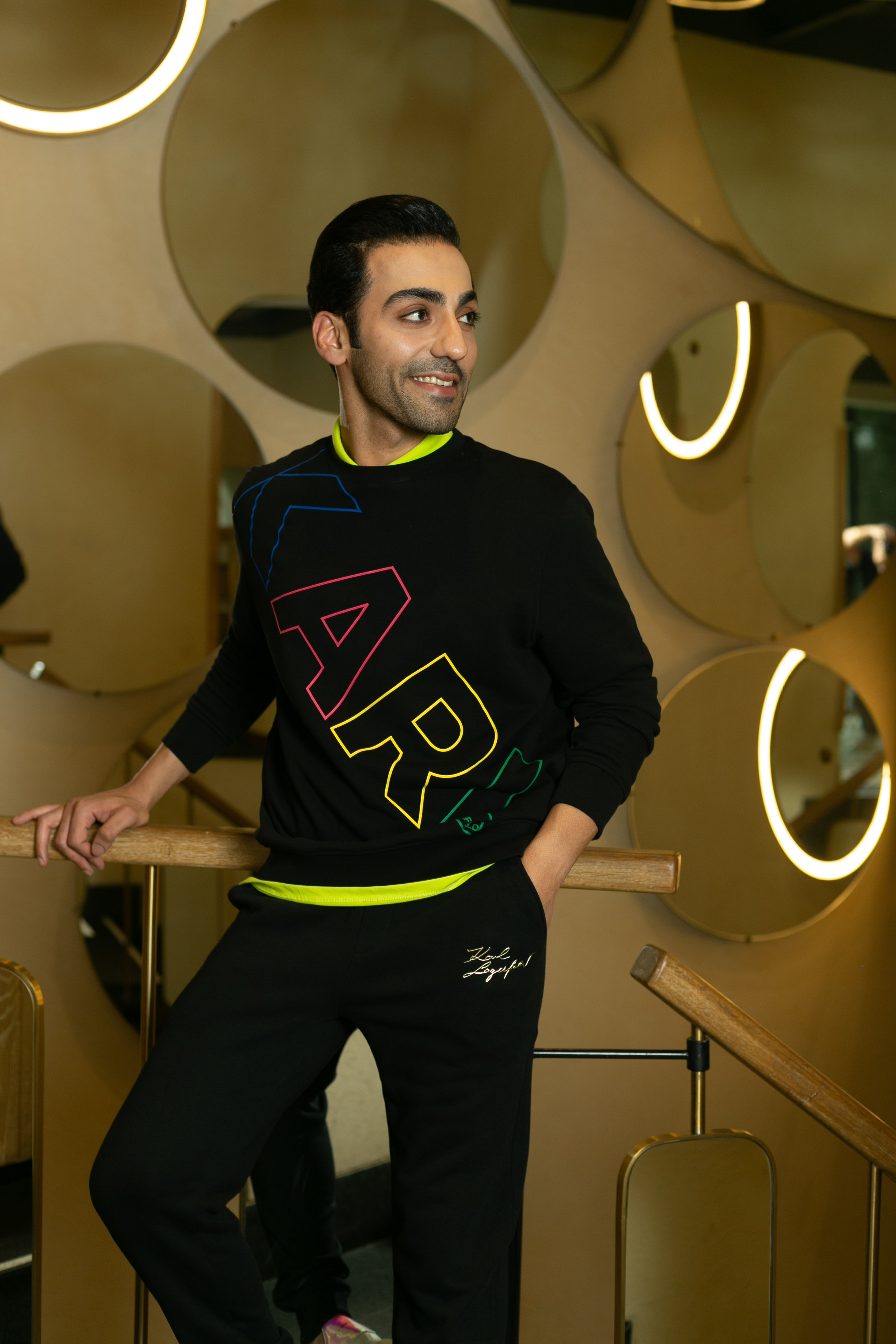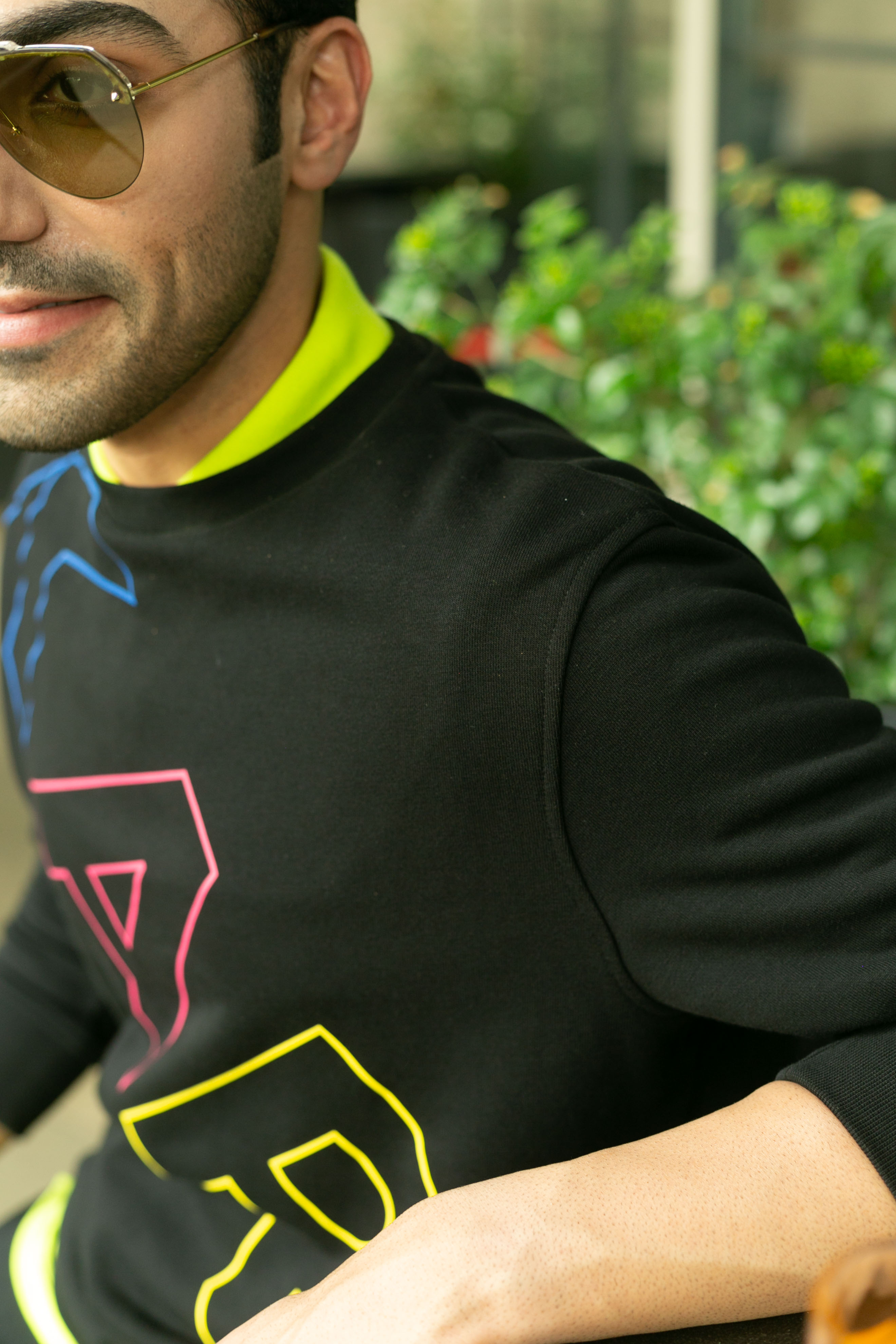 "This look isn't trying too hard to be what it is and isn't athleisure supposed to be about that? I love monochromes, and black is black, as they say. I don't need to have branding making itself very obvious but I think we can all agree that Karl (Lagerfeld) isn't just a brand, the man behind it is an eternal phenomenon."
Minute Play
Gurmehar defines his style to be simple, clean, elegant, and chic. His style is sleek, tailored, but the breathable kind of tailored, the kind that requests others to take him seriously but also allows them to be themselves around him; so others can share an unpretentious zest for life in their interactions with him. The chef-extraordinaire paired up the sleek, soft and comfortable Polo Ralph Lauren shirt with the elegant yet exclusive pants and belt from Michael Kors, with a smart Lapis Bards' tan-coloured bag, complementing the formal look. According to Gurmehar, the motto of his personal style is: "if I am going to make an entry, it can't stop at that; it has to be memorable for the audience around me, but in a non-intrusive way that leaves a little something to the imagination"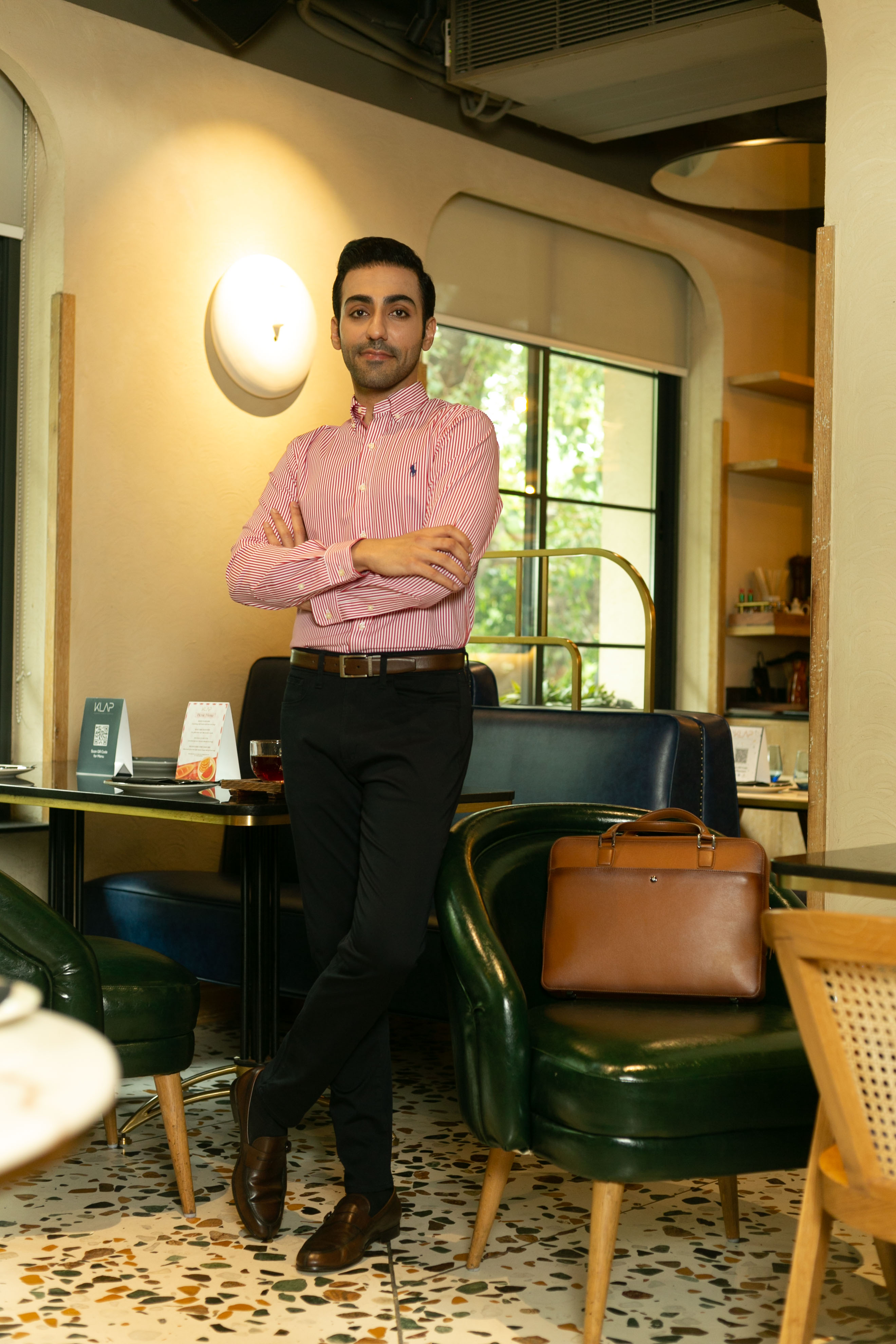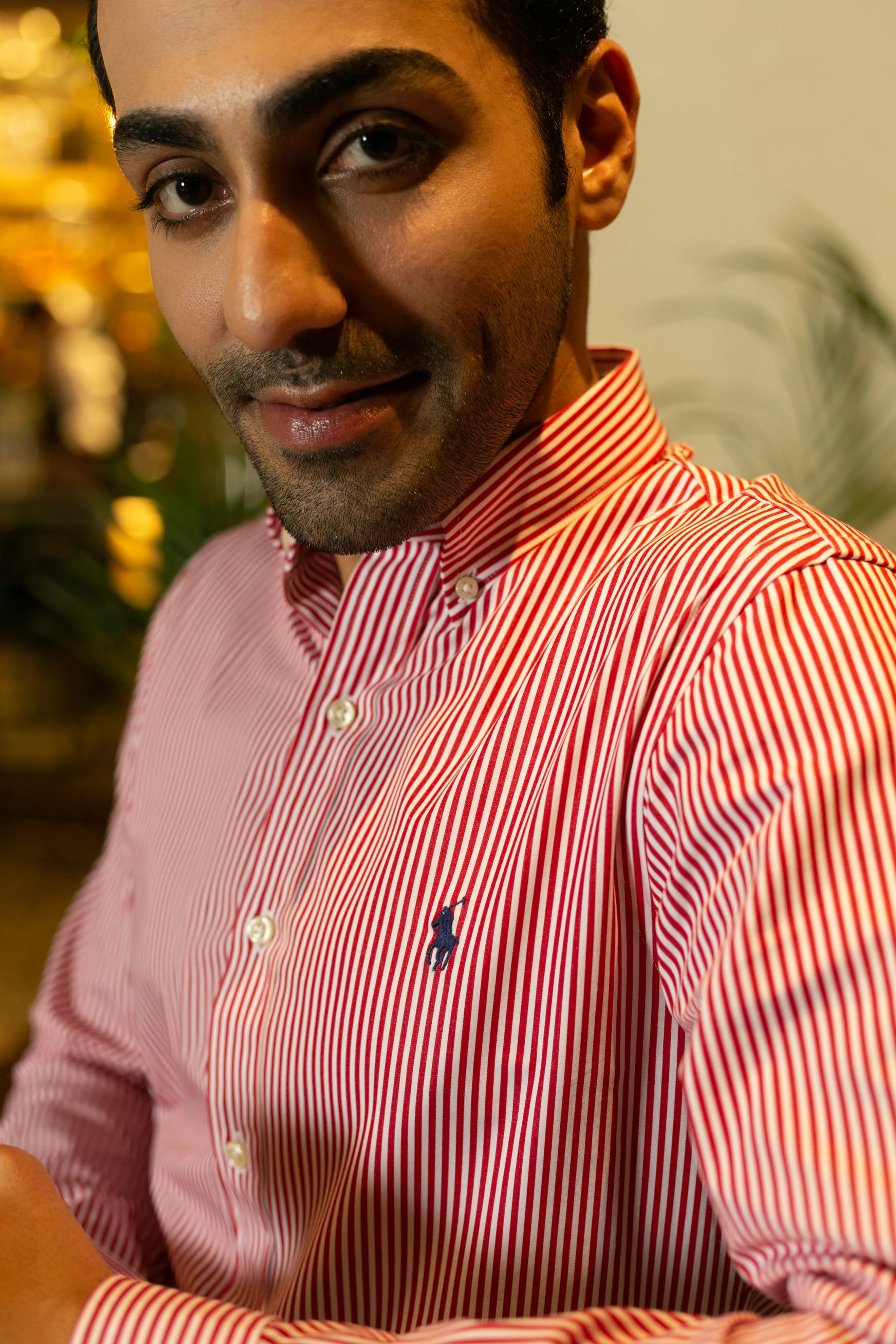 " I don't like 'fidgety formals.' I shouldn't have to keep tucking, and adjusting or shifting what I'm wearing this way or that. The impact of this ensemble is all in the cut and the tailoring – that speaks to my personal style all the way."
Classic Raw
Mr. Polo Bear sweatshirt enjoys the status of being both trendy, comfortable, occasional, spontaneous, and suited for everyday use. Gurmehar's style is visioned to balance out both his sides, being an accomplished chef and a devoted entrepreneur. As Gurmehar likes to believe that his restaurant brands exude an eclectic confidence and a form of sophistication that's relaxed and fun."I find this resonating with The Collective because I feel The Collective also captures similar vibes and we both are catering to constantly evolving tastes", says Gurmehar.
"
Mr. Polo Bear here makes people happy just by being himself, so I'd like to take some inspiration from him. Also, I prefer to carry a good-quality sweatshirt with me when I travel extensively. If it's black in colour I don't have to think too much about slipping it on and off according to the weather."