By Devika Kodasi
Once upon a time, there was a shirt that basically started a mass following and eventually introduced the world to a brand that has now become synonymous with fun and style.
When Founder and CEO Ray Kelvin decided to build a business, he wanted something that would reflect his own self. A mix of the playful, eclectic and equal amounts of quirk, he may not have fathomed the impact of 'Ted Baker' on the fashion world. Ray Kelvin opened his first store in Glasgow in 1988, under the name Ted Baker, a fictitious character in the image of Kelvin himself. The brand embodies the same passion, rebellious nature, playfulness and a keen sense of style.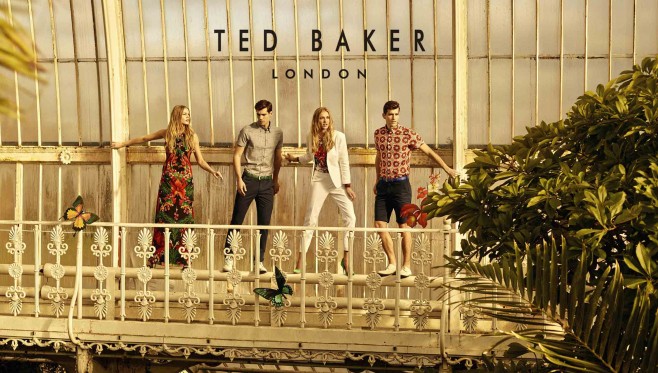 Ted Baker ( Image courtesy :Pinterest)
Kelvin wanted a brand hero to pin all the elements to rather than to be the face of the brand. He has been known to say that it was the best decision he took. The company today produces men's, women's and children's clothes and accessories, including watches, bags, jewellery and travel essentials.
From Glasgow to across the UK, by 1990 the company reached a landmark, during what is popularly known as the Acid House and Garage era that popularized "bright acidy colour shirts". Kelvin compared the time to a famine where the public would crowd all the five stores to pick up the shirts. That is when the brand decided to take a chance and go wider.
The men's collection makes us want to go on a long holiday. The very visual On the Bright Side campaign shows off bright, earthy colours such as olive green, canary yellow and soft blues in slim-fit cropped trousers, unreconstructed blazers that create a laid-back look all along with T-shirts paired with luxe-trainers.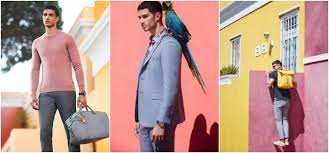 Ted Baker Men's wear (Image Courtesy : Dublin Town)
Ted Baker is widely known for its collection of Polo shirts. Focussing on an assortment of designs on the breast pocket and the collars, there is also minimal logo or branding that can be seen. A signature herringbone pattern and soft cottons, these Polos are a must for every man's wardrobe.
If you are a passionate golfer then the Ted Baker Golf edition is what you need to tee off in. Their most popular Bunka is a golfer's essential that is made with a sporty comfort stretch fabric, a professional fit aimed at performance and even a jet pocket in the sleeve for the avid golfer to hold his marker. If fun on the course is more your style, one could choose from the several golf themed prints available in colours or even make a statement in club prints, leaf print or even a palm spring design to make an impact.
In case a summery vacation to the beach is on your list, choose from several summer essential Polos made with soft cotton that breathe and look easy as well. From contrast colours and flat knit collars, these polo shirts go from day to evening with ease. Pick from geo prints or tropical floral prints to get into the holiday mood.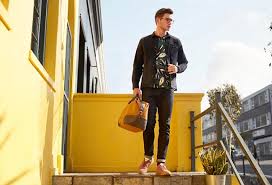 Ted Baker On the Bright Side (Image Courtesy :The Fashion with Style)