Tramarossa which was founded in the 60s, was a brand that started with the idea of high-quality denim wear for men using then-unheard-of materials such as selvedge denim. Later in 2003, they decided to put to one side the idea of ordinary tailored jeans and instead focus on a pair of high-quality Italian jeans which customers would love – and they succeeded. The creation and production of these jeans occur in Veneto, Italy, which is significant to the brand as it defines its culture. With a pair of jeans from Sartoria Tramarossa, you are guaranteed durability and timelessness.
Image Courtesy : Coney's Designer wear
The brand has been working every day to make the best jeans in the world with premium quality material. The detailing is mostly hand-finished in their workshops. What makes the denim unique is the fact that it can be signed with the initials of the customer. Small and precious metal letters (also available in 24 kt gold) are used to keep that personal touch to the jeans. Now there is an option of customising the external label, which enables customers to choose among many options of refined leather, handcrafted suited to their taste.
Over time the range of fabric selection has revolutionised – from selvedge denim in the original model to yarns such as Egyptian cotton, blends with cashmere, Japanese selvedge and hi-tech fibres, to which more and more innovative processes have been added and sophisticated in terms of finished, prints and treatments. Even the tiniest of accessories have been refined: from the signature visible stitching and double belt loops, from the handcrafted articulated buttons with the electroplated loom to the scissor logo, without forgetting the pockets and sewn inner linings to art.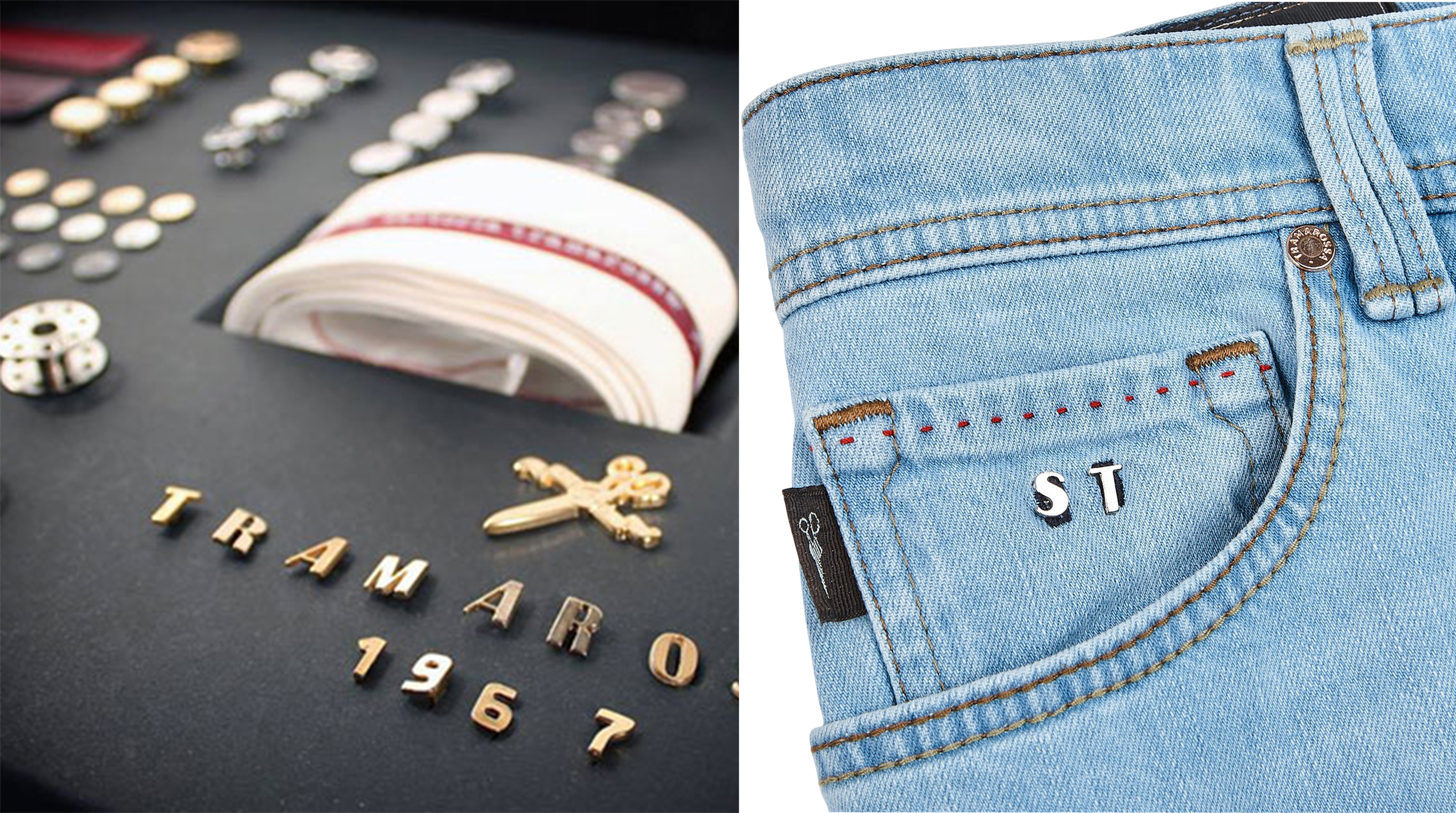 Image Courtesy : Coney's Designer wear & Baltzar
Today the brand is known for its excellent Italian craftsmanship producing luxury denim wear. One of the brand's new collections is called 24.7, designed with a new generation fabric that boasts of its built-in 'memory foam' capability.
The latest model for this season is called 19.80, a name which is kept different deliberately from the traditional Tramarossa names (usually referred to characters or artists of the history of the Belpaese such as Leonardo and Michelangelo), to represent the increasingly modern and technological breadth of the brand. The washes and treatment are more intense, with breaks and mending studied ad hoc compared to their classic collection. Even the buttons are dark and deliberately blackened.
Black Collection Tramarossa, a little capsule comprising of 16 jeans ranging from white to total black, passing through various hues of blue, was created for a young audience who wishes to flaunt a more aggressive style. The Red Collection, also known as the "Never out of stock" collection, is a year-round line of no-season and carry-over products that, once ordered, are in the buyer's hands in just 48 hours. The Cortina capsule is great for winter mood, with warm and comfortable garments made of revolutionary denim that stands out for its unique technological performance: the models' interior is designed to keep a consistent body temperature while also providing an insulating wind-stopping effect.