By Nikita Sachdev
Denim never goes out of fashion and it manages to innovate every year. After scouring the runways from around the world, here are the AW2018 trends in denim: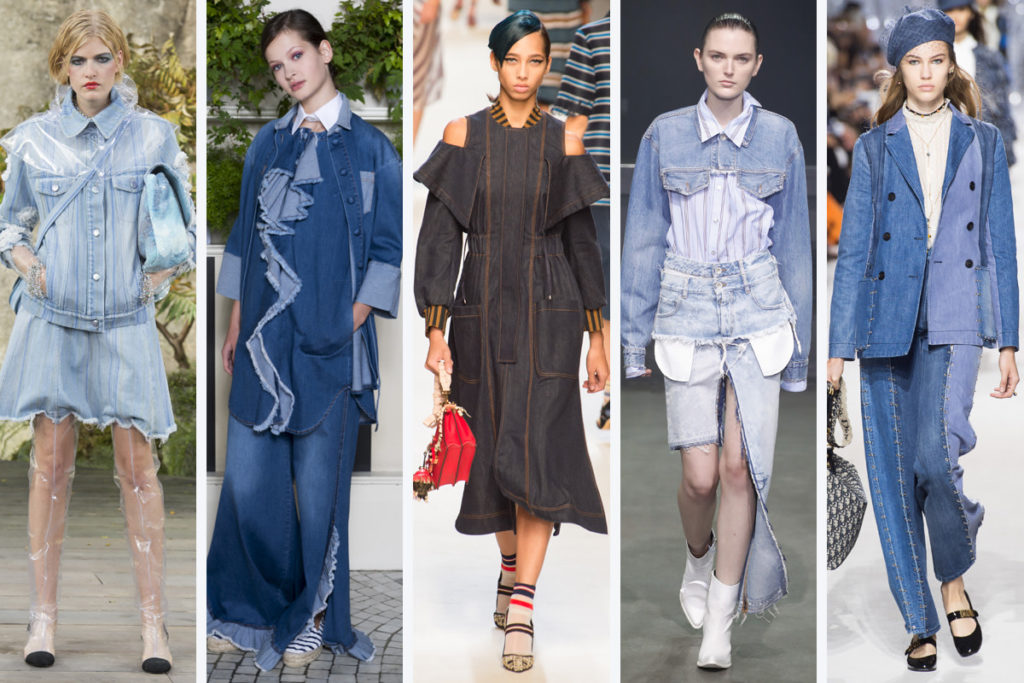 Denim trends (Image Courtesy : Fashionista) 
For women
Mom jeans: it's time to give your skinny jeans a break and opt for the more comfortable Mom jeans. Higher on comfort than a pair of skinny jeans and much more stylish than a pair of boyfriend jeans, this pair is high-rise, non-stretch and has a slight boot cut. Today Mom jeans are a rage among fashion bloggers, models and youngsters.
 High waist jeans: A trend that's been a favourite with women since the 40s, a good pair of these jeans can make any woman look well put-together and fabulous in minutes. This is the most flattering pair of jeans one could own and compliments every body type since they make your waist look smaller and the rest of your body look curvier.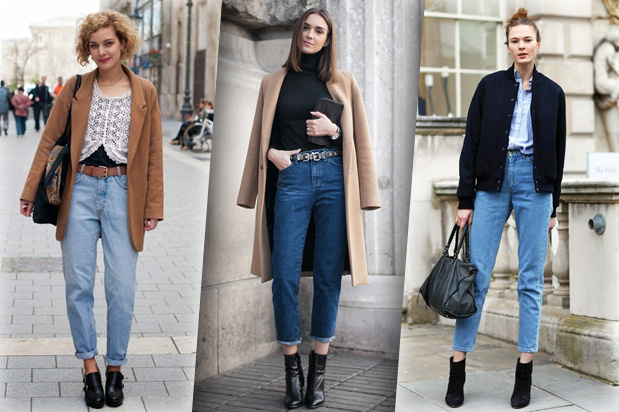 Mom jeans (Image Courtesy : Eve Malta)
Denim jacket: whether we talk about the ramp or street fashion, you can rarely go wrong with a denim jacket. It has been a wardrobe staple for both men and women for years now. The garment makes you look in mode whether you're wearing it with the most casual outfit or trying to glam up a dress. The denim jacket has many variations, with a modern touch of fashion. Black and white have been a hit among fashionistas. Also cropped denim jackets are a superb piece to add over any casual dress. If you like to keep it super casual and comfortable, you could opt for an oversized denim jacket (also known as the boxy denim jacket). If you're in a hurry and you still want to look like you've invested a lot of time in getting ready, just throw on a denim jacket over a plain white dress (for women) and over a plain white shirt (for men) and you'll do wonders with your look.
Dungarees: We all have a childhood memory of wearing dungarees and basking in the summer sun. But who had the slightest hint that this could be a fashion trend when we grew up. Dungarees are not everyone's cup of tea. Dungarees are meant to be loose so if you prefer super fitted clothing, then this garment is not for you. Loose does not mean baggy, however. Dungarees should fit slightly loosely and pair well with a tee, for a casual day out, or with a stylish blouse, for date night.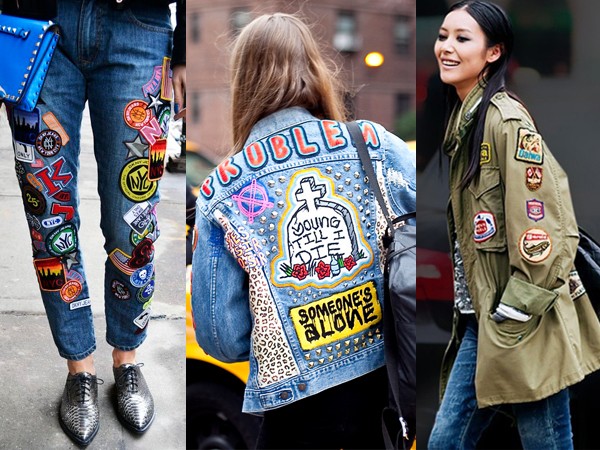 Denim Jackets this season (Image Courtesy : Rubber band stretch)
Denim Saree: We first spotted Bollywood actor Sonam Kapoor wearing a denim saree by designer Masaba Gupta in 2017. This year designer Diksha Khanna decided to mix up two trends and come up with her own bold creation. She took inspiration from the distressed denim trend and came up with the distressed saree, which works well with a classic white shirt.
For men:
 Dad jeans: Once considered one of the funniest trends of all, dad jeans have a comfortable fit, are slightly longer than usual jeans and have a slightly washed out colour. From the ramp to actors, everyone is rocking the trend. Dad jeans are not only suited for casual occasions but can make the perfect cut for formal occasions too. For a casual day out you could pair them with them a loose T-shirt and a cool pair of sneakers. For a meeting or a formal event you could opt for an oxford shirt tucked and layered with a blazer.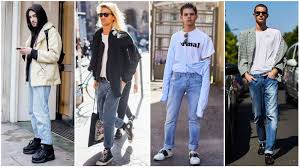 Dad jeans ( Image Courtesy : The Trend Spotter)
Denim jacket: This versatile garment can add a stylish finish to your outfit and make it go from drab to fab in minutes. A useful layer in the winter and a casual add-on in the summer, it can be used to amp up your look. While layering your outfit, make sure that you keep the inner layer thin. For instance you could opt for a shirt made of a super light fabric so the jacket fits snugly over it. You can also experiment with different shades of denim for different occasions. For formal days opt for darker shades and for casual days, opt for lighter tones.
Denim on denim: Many go wrong with this one as they pair the exact same shade of jeans with a jacket or shirt. The rule is that when you're pairing two denims garments they should not be of the same wash. Always opt for a lighter upper than your jeans. The lower garment should always be darker in shade. To break the monotony of denim-on-denim, add a white tee under your denim jacket.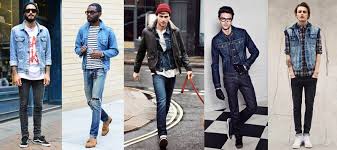 Denim on denim (Image Courtesy : The Trend Spotter)
Denim shorts: Denim shorts are a summer favourite for men but while buying one you must know the ideal length and fit. The ones that end just above the knees are recommended. Go for a simple T-shirt and don't try to jazz up the look. Keeping it simple is the key. Just add a classic pair of shades and you're all set for the beach or even lunch with friends.
 Denim shirt: A denim shirt could be worn to work, on a journey or a casual outing. It's time to give your white shirt a break and try this variation. The denim shirt can be paired with shorts, chinos or joggers. To wear the denim shirt formally, team it with a nice silk tie and a well-tailored suit.